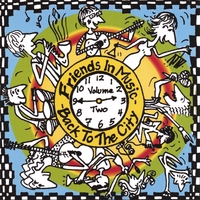 Friends in Music
Back to the City, Vol. II
Jac-Jen Publishing
Ever heard of the Norfolk Sound? It never caught on like Motown, Memphis or Muscle Shoals, but for a brief period in the early '60s, several tunes recorded right here in the heart of Tidewater topped the charts, having an impact on fans that included four lads from Liverpool and a kid growing up on the Jersey shore by the name of Springsteen.
There's still plenty of good music being made in the greater Norfolk area, but the region's pop success is anchored these days in the hip-hop workshops of Virginia Beach and Portsmouth. So Downtowner publisher Jack Armistead gathered some of his musical friends together to update the Norfolk Sound, and the result is this 10-song collection.
Long-time local faves Big Fun kick the proceedings off with a rollicking "Quarter to Three," the biggest hit to come out of here after Gary U. S. Bonds laid it down in Frank Guida's Church Street studio in 1961. Lead singer Bruce Gray puts a soulful spin on this rock classic, with Hotcakes saxman George Bell wailing like ol' Daddy G himself. But Gray is at his best on "Working for My Baby," the last hit out of Guida's hit factory for Lenis Guess in 1966, and Randy Melton provides just the right cheesy organ setting to recapture the garage band spirit of the times.
Big Fun shows up again on two blues-rockin' originals, and Gray and bassman Nicky Bonis close out the disc with a 15-year old track from their former incarnation as The Jailtones, "Too Much, Too Little, Too Late," a bar band tour de force. Armistead himself shows up with a couple of his own songs—turning in a raspy Rod Stewart-like vocal on "Own Up" and strumming tenor guitar behind the harmony laced Mamas & Papas-go-country "Maybe It Doesn't Matter." Woody Nordan adds his distinctive slide guitar touches to both.
The middle of the disc revolves around a solo "Orange Blossom Special" by fiddler Charlie Austin, who useta play in the house band at the old County Line on South Military Highway before hitting the road with TV infomercial king Boxcar Willie.
Whether or not Chesapeake's Lewis McGehee qualifies as part of the Norfolk Sound is a moot point. When you think of local acoustic guitarists, Lewis is always at the top of the list. His two tracks here, Dylan's "I Shall Be Released" and his own "Hey Virginia!" feature remarkable guitar technique (with touches of Michael Hedges and Will Ackerman) and his immediately identifiable voice blends with wife Marsha on the harmonies to make his contributions to this project outstanding, simply beautiful.
copyright © 2006 Jim Newsom. All Rights Reserved.