An actor makes a record. Hmmm, I think we've been here before—Lorne Greene, Scott Baio, William Shatner, Shelley Fabares. Well, Shelley's "Johnny Angel" was a great pop tune, actually. But her Donna Reed Show co-star Paul Petersen's "She Can't Find Her Keys" and "My Dad" were pure pablum.
As an actor, John Corbett has been the essence of cool. His "Chris in the Morning" character on Northern Exposure earned him Emmy nominations and his turn as the boyfriend in My Big Fat Greek Wedding brought him big screen stardom. His recurring role as Aidan Shaw in Sex and the City made him a TV heart-throb.
So it's only natural to assume that as a musician, he's a dilettante trading on his name to get gigs. Surprise! His self-titled first album is pretty good, a collection of first rate country rock with a working-class hero's edge. You can hear him play it in person Thursday night at the Suffolk Center for Cultural Arts.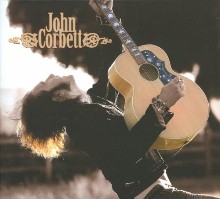 The album opens with "Bottle of Whiskey," moving from a bluesy acoustic guitar pattern into a guitar-laden Nashville Now arrangement. And that's the groove Corbett and his band work for the next fifty minutes. There's nothing new here, and an honest review would point out the generic quality of the accompaniment, but there's something about Corbett's natural delivery that lifts the songs above the mundane. Fiddle, dobro and lap steel are mixed in with the electric instruments, and the disc closing "Last Stand" begins like Springsteen and Mellencamp before settling into radio friendly country—"I was looking for America in a western movie…"
Corbett composed none of the tunes, but there are a couple from the pen of Elton's songwriting partner Bernie Taupin, one was co-written by Hal Ketchum, and the rest were written by first rate Nashville hotshots. This is a solid outing, one that would probably have put Corbett at the top of the country hit parade had he chosen to go with a major label. (Listen to "Good to Go.") But he decided to do it his way, releasing the CD on his own Fun Bone label, and striking out as an opening act for folks like ZZ Top, Lisa Marie Presley, David Allen Coe and Charlie Daniels.
Thursday night, though, he's the headliner himself, and the 520-seat Birdsong Theater at the SCCA is an ideal venue for fans to get an upclose and personal look at the West Virginia native who's carved out a distinctive niche as an actor, doing what he loves best.
"Music has always been central to my life, much more so than acting," Corbett says. "Acting is how I make my living.  Music has always been a passion—it's something I love, something I can't live without."
Now he's taking his passion on the road. If his CD is an accurate indication, it will be a hot night in Peanut Town.
copyright © 2006 Jim Newsom. All Rights Reserved.