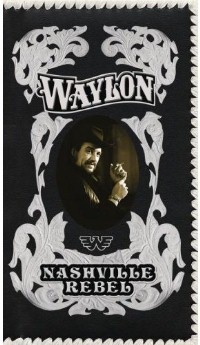 Waylon Jennings
Nashville Rebel
BMG/Legacy
Waylon Jennings had one of the quintessential country music voices, a deep baritone audibly imbued with the hardscrabble upbringing of a child of itinerant farmhands who grew up to become a hard-headed, hard-boiled singer of songs on his own terms.
Jennings embodied the "outlaw" movement that reinvigorated country music in the 1970s. But his music career stretched back to the beginnings of rock-n-roll, when he was a disc jockey in Lubbock, Texas, who befriended rock pioneer Buddy Holly. Holly produced his first recording, a strange cover of the Cajun tune, "Jole Blon" that featured King Curtis on doo-wop saxophone. That single flopped, but Jennings was assured of being at least a footnote in the music history books even if he never recorded again:
After breaking up his band, the Crickets, Holly recruited Jennings to play electric bass with him on the "Winter Dance Party Tour" of 1959. When the heater on the tour bus stopped working, Holly chartered a plane for himself and his band to fly from a show in Clear Lake, Iowa, to the next night's performance in Moorhead, Minnesota. But Jennings gave up his seat on the plane to J. P. Richardson, aka "the Big Bopper," because Richardson had come down with the flu. Just before the plane took off, Holly joked to Jennings, "Well, I hope your old tour bus freezes up." Jennings good naturedly replied, "I hope your darn ol' plane crashes!"
And that's just what happened on February 3, 1959, "the day the music died." His final words to his good friend would haunt Waylon Jennings for years, and that eerie feeling that he was supposed to have been on the doomed plane would trouble him for the rest of his life.
Nonetheless, country music stardom was in his future, and his first hit came in 1965 with the Buck Owens-like, "Stop the World (and Let Me Off)." The next year he reached the country Top Ten with a semi-rockabilly ride through Gordon Lightfoot's "(That's What You Get) For Lovin' Me," and he flirted with the upper reaches of the country charts for the next five years with a series of singles cranked out in the efficient factory-like production style of the then-dominant "Nashville Sound."
But he was chomping at the bit, eager to make records on his own terms. His frustration peaked about the same time he learned of the record industry's indulgent treatment of rock musicians and in 1972, he successfully renegotiated his contract with RCA, freeing himself from the heavy hand of corporate Nashville and gaining control over his own recorded output. With his pal, Willie Nelson, and other free-thinking artists like Johnny Cash, Tompall Glaser, Kris Kristofferson and Hank Williams, Jr., he plotted a new direction and inspired a movement that took its name from his recording of "Ladies Love Outlaws" and was cemented with the compilation album, Wanted! The Outlaws, the first platinum-selling country album ever.
By the mid-'70s, Waylon Jennings was one of the true superstars of country music, crossing over to appeal to rockers as well with songs like "I'm a Ramblin' Man," "Are You Sure Hank Done It This Way" and "Good Hearted Woman." He closed out the decade with a string of chart toppers including "Luckenbach, Texas (Back to the Basics of Love)," "Mammas Don't Let Your Babies Grow Up to be Cowboys," "I Ain't Living Long Like This," and the theme from the TV show, The Dukes of Hazzard.
Nashville Rebel is a four-disc set that collects 92 songs from throughout Jennings' career, opening with that Buddy Holly collaboration and continuing with late '60s hits like "The Only Daddy That'll Walk the Line," through the "Outlaw" period on into the "Highwayman" projects with Nelson, Cash and Kristofferson and concluding with a couple of latter day outings including his final Top Ten tune, "Wrong," a multi-cultural blend of marimba and dobro from 1990.
Along the way there are several duets with Willie, a few with wife Jessi Colter, and some surprises—you'd think "MacArthur Park" would be a ridiculous choice for a country singer, but Jennings actually gives his six-and-a-half minute "MacArthur Park (Revisited)" a depth not even hinted at in Richard Harris' pop hit version.
The box set takes its title from a low-budget American International straight-to-drive-in movie from 1966 in which Jennings plays a musician with "a guitar in his hand…a gal on his arm and a talent for trouble with his fists." Ironically, he would become a much more serious kind of Nashville Rebel, paving the way for a union of hippie rockers and country traditionalists that shook up the arbiters on both sides of the divide.
While contemporary country has embraced the rock elements ol' Waylon brought into it in spades, the factory system is now as strong as it's ever been. But this box set reminds us that once upon a time, there was a man who took on Nashville's entrenched powers and triumphed by doing it his way.
copyright © 2006 Jim Newsom. All Rights Reserved.