Family is important to Mitch Barrett. Ask him to name the primary influences on his music and his life, and the answer always comes back to his family and his roots in the Appalachian foothills of Kentucky.
"I grew up in a holler that my great-grandfather settled in," he said recently. "My family's been here for several generations. I've raised my kids here. This place is very important to me. Most of my songs are linked somehow to my family or my interpretation of the world from the eyes of a contemporary Appalachian. We have a lot of issues going on—mountaintop removal, for example. So my songs are about this place that I'm from."
Barrett will bring a guitar case full of those songs with him Saturday night when he performs at the Virginia Beach Central Library for Tidewater Friends of Folk Music. Though he makes his home in the bluegrass state, he's no stranger to local folk aficionados. He was one-half of the popular local duo Mandala in the 1980s and early '90s with musical partner Martin Swinger.
"We played around there for close to eleven years beginning in '82," he said. "Martin's sister was the records keeper at Norfolk General Hospital. So we came and crashed on her floor.
"We got started by going around and playing. Do you remember Clancy's, next door to Bobby McGee's? We'd pack this squid bar with sailors from South Carolina, North Carolina, Kentucky and Tennessee. And we were singing the music they grew up with. It was Friday night and we'd pack the place. And that was the beginning.
"We were playing seven nights a week. I realized later that we were in the middle of a folk boom, but we didn't know it at the time!"
The mountain call of home was too strong to resist, however, and Barrett returned to Kentucky. Swinger joined the fertile folk scene in Maine.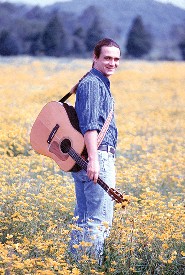 "I was trying to be closer to raising my son," Barrett explained, "and closer to my parents. Coming back here, I got involved with the arts council, playing music, doing songwriting workshops and storytelling workshops in schools, and performances. And that's what I've done full-time since I left there.
"It's a good place, there are lots of opportunities. You've got to be versatile to make a living playing music anywhere, but thankfully the arts and folk music go together well. Almost all of us folksingers out here are working in the arts in some fashion. I know I'm lucky; I consider myself blessed. I've got four beautiful children. And now I'm going through another big change in my life, playing out on my own."
That big change is a personal one. For the last ten years he's been performing as part of Zoe Speaks, a duo with his wife Carla Gover. When we spoke, however, it appeared that both the musical partnership and the marriage would be splitting up. Nonetheless, in the midst of his own personal sadness, Barrett looked forward optimistically.
"I've continued to play solo all along, just to keep myself going and keep my chops up. I've entered a lot of songwriting contests—I just won the Rocky Mountain Folks Festival songwriting contest. It was cool. There were about 900 songwriters in one place, and I won first place. So I've got an hour paid on the main stage next year!"
And he's got that profound sense of family and rootedness to give him strength through difficult passages. He's carried that with him his whole life.
"My grandparents were a big influence on me," he said. "I tell people about growing up here and they think I'm lying. I was born in 1960, but by '68 a lot of folks out in the country didn't have TV. It wasn't that TVs weren't available; they just didn't see the need.
"Both sets of grandparents were very traditional. They weren't big farmers, but they were self-sufficient farmers. They grew for theirselves. One of my grandfathers was a tobacco farmer—we had a huge tobacco farm and a huge vegetable farm that we sold vegetables from. So I grew up close to the land; that's where my values come from, the folks that raised me.
"Music was such a part of our life. It was a part of working together; it was a part of every family gathering. Church was the central gathering so music was definitely a part of that. My mother and I had a duo—you've heard of the wedding singer? Well, we were the funeral singers. By the time I was fourteen, I bet I'd sung at a hundred funerals. People just loved my mom's Appalachian-tenor voice with my voice. It was a big part of grieving. My grandmother always explained that I wasn't just singing, that it was actually a part of the culture, that I was helping people emote. But I said, 'Every time I play people cry!'
"It was a great training ground for me 'cause I could actually get in touch with the soul of the song singing the old, rich Appalachian hymns. It was beautiful to hear my grandmother and grandfather sing—they sang when they worked, they sang when they were having fun. It was just part of our lives.
"My grandmother could never believe what I did. She'd say, 'Now what do you do for a living?' And I'd say, 'I play music Granny.' 'And they pay you?' She couldn't understand—everybody sings! How do you make money at it?"
Though his songwriting may be grounded in his Appalachian heritage, Mitch Barrett's music draws from a diverse wellspring of influences.
"I listened to a lot of Motown," he said. "My mother really loved Motown, so I know that's in there somewhere; it's in the chunky rhythms I play on guitar. And the melodies come from listening to great songwriters like Willie Nelson and Kris Kristofferson. I listened to Dylan, too, but he was the guy you hated because you knew you could never reach that level."
Mitch Barrett has reached a pretty comfortable level himself, making a living playing music on his own terms. He won the prestigious Kerrville New Folk Award in 1999 for "Pearl," a song he'd written about his sister that became the title track for Zoe Speaks' first album the following year. And the title track for the soon-to-be-released CD, Drop in the Bucket, is instantly memorable. (Check it out on myspace.com/zoespeaks.)
Saturday night will be a homecoming celebration for local folk fans, welcoming back a favorite adopted son.
"A lot of clubs have closed for financial reasons," he said. "Fortunately, the house concert scene has really grown. But the Tidewater Friends have been around so long that they're self-sustaining, I think. I'm looking forward to it."
copyright © 2006 Jim Newsom. All Rights Reserved.