Turn on country radio these days and you won't hear much country music. Sure, there's some twanging here and there, an occasional reference to mama and beer, and many of the current crop of stars actually came from the south. But, the purity of emotion, voice and instrumentation that once defined the genre is pretty much a thing of the past.
George Jones was a big part of that past, and Thursday night he becomes a part of the Granby Theater's present when he turns the grand old theater into the Grand Ole Opry East with a charity concert benefiting research into Amyotrophic Lateral Sclerosis (ALS).
A country music hitmaker throughout the second half of the twentieth century, Jones is the real deal. From his first Top Ten record, "Why Baby Why" in 1955, to "I'm a One Woman Man" in 1988, right on through to the present, he has been both a symbol and a star in the country music firmament. Songs like "White Lightning," "She Thinks I Still Care," "The Race is On" and "He Stopped Loving Her Today" are classics that transcend categorization.
His life is the stuff that myths are made of: Born in a log cabin in East Texas in 1931, singing on the streets of Beaumont for tips at age twelve, a high school dropout who married a girl he met while performing in a honky tonk, an early '50s hitch in the Marines after being jailed for non-support when that marriage failed, a first recording session in the living room of a local record distributor. By the mid-'50s his hitmaking streak had begun and he had become a member of the Opry.
As his career continued, he lived what he sang, becoming known as much for boozin' and brawlin' as he was for his music. His marriage to Tammy Wynette was a tabloid's delight. By the 1970s he'd added cocaine and other drugs to his arsenal of self-destructive behavior, and he gained the unflattering nickname, "No-Show Jones," for his many missed performances.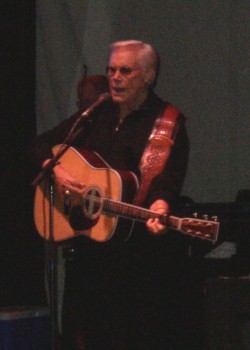 He's sober these days and glad to be alive. A 1999 car crash "put the fear of God" in him. A review of his concert last month in Des Moines, Iowa, said he sounds great, "a little ragged and huskier" than he useta be, but very much in control of his instrument and having a lot of fun onstage.
He should be on a roll at the Granby Theater Thursday. Two nights earlier, he celebrates his 75th birthday with a gala concert and party in Nashville at the Grand Ole Opry. His appearance here is both a continuation of his birthday celebration and a benefit for the regional chapter of the ALS Association and the Jim "Catfish" Hunter ALS Foundation.
Amyotrophic Lateral Sclerosis (ALS), also known as "Lou Gehrig's Disease" for the baseball legend who died from it in 1941, is a degenerative disease that affects nerve cells in the brain and spinal cord. The cause is unknown and there is no cure. Sufferers gradually lose control of their voluntary muscle movements, but their minds usually remain sharp and active. Ultimately, though, the muscles atrophy and the individual dies.
Catfish Hunter was a popular major league pitcher in the late '60s and '70s who died from ALS at the age of 53. Born in Perquimans County, North Carolina, he was a kind of local hero to baseball fans in this area. The foundation that bears his name supports research and provides grants for families living with the disease.
Tickets for Thursday's show include a "light country-style dinner" and seating is general admission, though groups of four or more can reserve a table on a first-come, first-served basis.
copyright © 2006 Jim Newsom. All Rights Reserved.