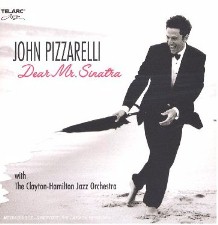 John Pizzarelli
Dear Mr. Sinatra
Telarc

Marilyn Scott
Innocent of Nothing
Prana Entertainment

I have heard it argued that a singer can't be a real musician, that vocal jazz isn't really jazz at all. I disagree.

John Pizzarelli probably gets a pass, even among the no-vocals crowd: He's an excellent instrumentalist, following in the footsteps of his legendary father, Bucky Pizzarelli, as a master of the seven-string guitar. But it's his distinctive vocal stylings that have carved out a niche for him in the top tier of performing musicians.

His discography includes tributes to Nat "King" Cole, Antonio Carlos Jobim and The Beatles, but even though it's always been obvious that Frank Sinatra was a major influence, he hadn't found the right opportunity for such an homage. His new CD, Dear Mr. Sinatra, was worth the wait. It's his best outing yet.

Much of the credit goes to the Clayton-Hamilton Jazz Orchestra, one of those rarities in contemporary music, a working big band. The joyful sound of real horns working their way through first-class arrangements provides a refreshing surrounding for Pizzarelli's understated vocal subtlety.

The singer says in the liner notes that he "wanted the foundation of the album to be songs that were written for Frank," not just songs that he happened to record. To that end, he opens the show with the rarely heard "Ring-a-Ding-Ding," written by Sammy Cahn and Jimmy Van Heusen to immortalize one of Sinatra's catch phrases. It's a swingin' start that sets an upbeat tone for the album that follows.

Well known classics get new life in surprising settings—"I've Got You Under My Skin" going mellow with flutes and bass clarinet, "Witchcraft" sounding like a page torn straight out of the Basie playbook, "You Make Me Feel So Young" loping along with laidback casualness. The band catches fire on "How About You," then sits out a lowkey "Can't We Be Friends?" with papa Bucky (who played with Ol' Blue Eyes himself) providing tasteful guitar accompaniment.

The slow building "Nice 'n' Easy" features slightly expanded lyrics and leads into a gorgeous medley starting out with the singer alone with his guitar on "I See Your Face Before Me" segueing into a striking band arrangement of "In the Wee Small Hours of the Morning."

Those who saw John Pizzarelli here with the Virginia Symphony Pops two years ago know what a superb entertainer he is. With Dear Mr. Sinatra, he's captured some of that performing magic on disc while producing one of the best jazz albums of the year.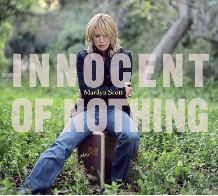 Pizzarelli's approach comes straight out of the jazz tradition that's so much a part of his genetic makeup. Marilyn Scott comes at jazz from a more modern, pop-flavored direction. I first heard her with the Yellowjackets, and she has a lengthy list of credits doing studio work in the blues and contemporary "smooth jazz." Her voice is irresistible, soulfully smooth and pliant with a hint of gravel at the top of her range.
Her new CD, Innocent of Nothing, includes two standards—Thelonious Monk's "Round Midnight" placed in a somewhat overdramatic setting, and "Spring Can Really Hang You Up the Most," given a beautifully dynamic reading. Seven of the album's ten tracks were co-written by Scott herself—the leadoff "Round and Round," written with YJ pianist Russ Ferrante, is a standout. "Icebox," a collaboration with Ferrante and bassman Jimmy Haslip, has that contemporary funk that characterizes much of the Yellowjackets' songbook. In "The Wilderness," the singer/lyricist dreams of getting away from the city, and on "A Change," she and producer George Duke hope for better days to come.
You might not think of Bob Dylan as a jazz composer, but "It's Alright Ma (I'm Only Bleeding)" works surprisingly well in this Jacket-like arrangement—it doesn't swing, but it grooves along on a pianistic bed complemented by tasteful electric guitar and soprano sax. And, considering the current state of the union, there is extra poignancy in her delivery of the line, "Even the President of the United States sometimes must have to stand naked."
Though Scott's music is not nearly as timeless as Pizzarelli's, Innocent of Nothing presents an attractive singer with an attractive voice in a pleasant, relaxing and enjoyable setting. There's nothing wrong with that!
copyright © 2006 Jim Newsom. All Rights Reserved.