Friendliest Downtown Restaurant Owner: Phil Decker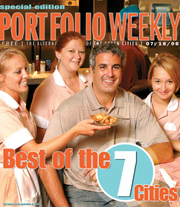 There's nothing fancy at the D'Egg Diner, just good ole home-cooked comfort food, served up at a reasonable price. The "Early Riser" is the best breakfast deal in town, and the Wednesday meatloaf special could make the most virtuous vegan go off the wagon once a week. But the reason regulars keep coming back is the friendly smile and welcome handshake (or hug) of owner Phil Decker. Always multi-tasking, he somehow manages to make everyone who comes in feel like a close personal friend. It's a rare talent, but for Phil it just comes naturally.
__
Best Spinach Lasagna: Zio's
It just seems that spinach lasagna ought to be good for you. Unfortunately, if it's stuffed with full fat cheeses it probably isn't much healthier than the meat-filled variety. So I guess I'm fooling myself when I think I'm eating heart healthy. Down the block from the Naro, Zio's serves this dish as two stuffed pasta squares covered in a tasty tomato sauce. You can eat half now and take the other half home for tomorrow's lunch. It may be neither low fat nor low cholesterol but, hey, spinach worked wonders for Popeye!
__
Most Underutilized Performance Space: The Granby Theater
The Attucks is the most unused concert hall in the seven cities, but the beautifully restored Granby may be the most underutilized. Here is an incredible room with gold leaf accents and a rich ruby ambience, but it's being used primarily as a weekend dance club. The few concerts there so far—including those put on by Port Folio Weekly and the Virginia Arts Festival—have been magnificent entertainment experiences, hinting at the highest and best use for this grand old lady. She is too cool and too classy to be a mere disco.
__
Most Persistent Civic Activist: Ann Fitzgibbon
When Ann Fitzgibbon gets involved in something, she inhales it, consumes it and ultimately becomes it. Her enthusiasm is boundless, her energy infinite, her passion palpable. After she immersed herself in the drive to preserve 21 acres of undeveloped land as Bay Oaks Park in Ocean View more than two years ago, she made speeches, organized petition drives, hounded city council, and helped shape public opinion. Like the great populists of the past, Ann never gives up in her crusades, even in the face of stiff opposition from the power elite.
__
Classiest Educational Facility: St. Patrick Catholic School
When local lay leaders and the James Barry Robinson Trust decided a Catholic elementary school was needed to serve the west side of Norfolk, they set out to create a state of the art facility comparable to the best in the country. With this new school on the edge of Larchmont, they succeeded spectacularly. From the striking solarium glass of the library and the technologically sophisticated wi-fied classrooms to the village green quadrangle and beautifully sprawling campus, this is one impressive layout. And it's not just the physical plant: Principal Stephen Hammond, a cross between Mr. Rogers and John Denver with a Tennessee accent, is the most inspiring educator you're likely to meet.
__
Gutsiest Downtown Developer: Bobby Wright
Bobby Wright was a pioneer with a vision. He could see the potential of the downtown Granby Street corridor when most of us were afraid to even go there. His handiwork is most visible in the magnificent restoration of the Granby Theater and the clever conversion of an old furniture showroom and warehouse into the Lofts at 500 Granby. But his commitment and love for downtown can be seen in every one of his properties. A man of ideas and action, he's an essential part of the Norfolk renaissance.
copyright © 2006 Jim Newsom. All Rights Reserved.