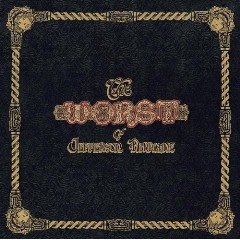 Jefferson Airplane
The Worst of Jefferson Airplane
RCA/Legacy
Hot Tuna
Keep On Truckin':
The Very Best of Hot Tuna
RCA/Legacy
When Marty Balin began putting together the band that would become Jefferson Airplane in 1965, he called the music he intended to make "fojazz," a hybrid of folk and jazz. But what he and the band actually created was an even more far-ranging concoction, dubbed "psychedelic rock" because of its role as soundtrack for the hallucinogenic drug scene of the time.
The Worst of Jefferson Airplane was an essential part of every college student's record collection in the early '70s. Originally released in November, 1970, the 15-track LP neatly summed up the band's first five years, offering glimpses of the Airplane's many sides—Balin's pop-rockin' "It's No Secret," the romantically beautiful "Today," Grace Slick's strangely disturbing "Lather," Paul Kantner's anthemic call to revolution, "We Can Be Together," Jorma Kaukonen's acoustic interlude, "Embryonic Journey."
Kantner coined the Worst of moniker as a typically Jeffersonian dig at the record industry the band had often done battle with. In fact, the compilation was lovingly assembled by the bandmembers themselves, and included the group's only two actual hits, "Somebody to Love" and "White Rabbit," as well as samplings from their six albums up to that point.
This Legacy reissue includes two bonus tracks, Kantner's "Watch Her Ride" and Slick's menacing "Greasy Heart." Its chronological layout allows the listener to trace the sonic and lyrical development of the psychedelic era itself while following the trajectory of San Francisco's most successful band. It's a journey that is still worth taking. The only disappointment is that the CD's expanded capacity wasn't maximized to include the post-Worst sort-of-a-hit, "Pretty as You Feel," or the definitive "Wooden Ships" from Volunteers.
Lead guitarist Kaukonen was one of the best, most distinctive of the post-Beatles guitar players. Whether finger picking acoustically or cutting through the band's increasingly dense textures with razor-toned electric licks, his singular sound defined the Airplane as surely as the loose three-part harmonies of Balin, Kantner and Slick. His take on the traditional "Good Shepherd" gave a clue of his arranging abilities and where his heart lay.
Kaukonen had spent his high school years in Washington, DC, where he and his best friend, Jack Casady, would haunt local blues, folk and jazz clubs. Jorma ended up in Frisco as a charter member of the Airplane and, when the band fired its original bassist, he sent for his old pal to come west.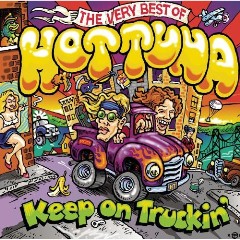 Though the J&J twosome found immense success with this most adventurous of rock bands, they never lost their love for the rootsy music they had discovered together as teenagers. As Jefferson Airplane took off for higher heights, they began working occasionally on the side as a duo playing the acoustic blues of The Rev. Gary Davis, Jelly Roll Morton and Robert Johnson.
Originally calling themselves Hot Shit, they had become Hot Tuna by the time their first album, recorded live at a club in Berkeley, California, came out in the spring of 1970. That first release was a stripped down affair, spotlighting Kaukonen's virtuosic acoustic finger picking and Casady's inventive contrapuntal electric bass playing. As the Airplane disbanded, Hot Tuna became more than an extracurricular hobby, expanding into a full-bore rock band with a following of its own.
The newly compiled Keep on Truckin' covers the history of Hot Tuna's various incarnations in the '70s. From ample samplings of the band's original acoustic orientation through its evolution to blistering blues rock, this collection resurrects one of the great offshoots of the classic rock era, a band that may never have been able to escape the shadow of its principals' past, but one unquestionably deserving a re-evaluation.
copyright © 2006 Jim Newsom. All Rights Reserved.