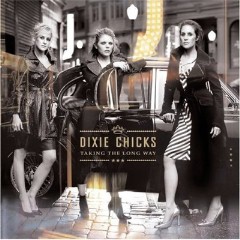 Dixie Chicks
Taking the Long Way
Open Wide/Columbia
It was March 10, 2003; the U. S. was poised to invade Iraq and the Dixie Chicks were performing in London. Lead singer Natalie Maines' off-the-cuff onstage comment that evening was about to produce shock and awe in the world of country music.
"Just so you know," she told the crowd of British fans, "we're ashamed the president of the United States is from Texas."
Although they had just won four Grammy awards two weeks earlier for their album Home and were the most popular act in country music, the backlash was immediate. Country radio stations stopped playing their music, protesters began appearing at their shows and burning their CDs, they received death threats. But they also expanded their audience—their 2003 tour was country music's biggest moneymaker of the year.
In the three years since "the Incident," the Iraq War has become an unpopular quagmire and the president's approval ratings have plunged to record lows. After taking some time off to have babies, the three Dixie Chicks got together with superstar rock producer Rick Rubin to record their long awaited next album. Where the group was originally deemed "too country" for contemporary country radio, their new sound is anything but. Home was an all-acoustic, down-home bluegrass-type affair with nary a drum in sight; Taking the Long Way is being compared with Fleetwood Mac and '70s California pop-rock.
Personally, this new disc reminds me most of Mary Chapin Carpenter with its blend of country, folk and rock. The leadoff track, "The Long Way Around," borrows both its title and its theme from her "The Hard Way" and "The Long Way Home," but with more bite: "My friends from high school/Married their high school boyfriends/Moved into houses/In the same zip codes where their parents live/But I/I could never follow."
The track getting the most attention is the first single, "Not Ready to Make Nice," an autobiographical response to the controversy and its aftermath: "And how in the world can the words that I said/Send somebody so over the edge/That they'd write me a letter/Saying I better shut up and sing/Or my life will be over." It's a potent song that oughtta be a monster hit.
The other song that jumps out immediately is the set closer, "I Hope," a gospel-tinged number co-written with bluesman Keb' Mo' that made its first appearance on the Hurricane Katrina telethon last fall. Catchy in a Staple Singers style, its lyrics serve as both a warning and an inspiration.
"Lubbock or Leave It" is a hard rockin' farewell to Maines' hometown complete with Buddy Holly imagery that should insure an unpleasant homecoming at the next class reunion, but the rest of the songs here are less specific in their references. "Everybody Knows" is country radio-friendly in its relatively generic arrangement; "Easy Silence" is a song of love (to a spouse, a parent?) about refuge in the maelstrom of life.
Maines and her bandmates, sisters Emily Robison and Martie Maguire, co-wrote all fourteen songs with collaborators including Sheryl Crow and Gary Louris of the Jayhawks, and there's a personal, intimate feel at times—in the beautiful love song, "Lullaby," in the sad Alzheimer's story of "Silent House." The guitars of "Voice Inside My Head" recall George Harrison's All Things Must Pass.
The Dixie Chicks are bigger than country music now. They were on the cover of Time magazine's May 29th issue as "Radical Chicks" after appearing in the same publication three weeks earlier among the "100 People Who Shape Our World." As I write this, Taking the Long Way is firmly ensconced at #1 on both Amazon and iTunes.
copyright © 2006 Jim Newsom. All Rights Reserved.