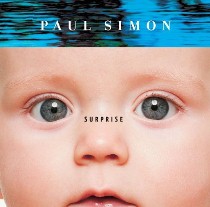 Paul Simon
Surprise
Warner Bros.
The last time I saw Paul Simon in concert, he seemed to be tired, just going through the motions. He had a great band, but he was flat, both literally and figuratively.
The same could be said of his career over the last decade and a half. The man who personified the introspective side of folk-rock in the '60s, threw in reggae and gospel in the '70s, and reinvented himself in the mid '80s by building on the musical ideas of South African musicians with the masterful Graceland, apparently couldn't figure out what to do next. He spent much of the '90s working on a Broadway show that closed soon after opening in 1998, and presumably put a big chunk of his energy into parenting the three children he had with wife Edie Brickell. But as a creative artist who doesn't like to stand still, it's reasonable to assume that he spent some of his time looking for new inspiration. Or perhaps, since he is a notoriously obsessive perfectionist, he was working on the music for his next album.
That next album is here, and it is exactly what its title implies—a great big surprise. Like Graceland the first time you heard it, you're not sure whether you like it or not; it's so different from anything he has previously done. This time out he's collaborating with Brian Eno, the master of ambience best known for his atmospheric production work with Talking Heads, U2 and David Bowie.
The two met at a London dinner party in 2003, got together to fiddle around in Eno's studio, and, according to Simon, felt an immediate connection. On four separate occasions over the next couple of years, Simon showed his songs to Eno, who added sounds and textures, sometimes changing the shape of the song. The album's credits say "produced by Paul Simon; sonic landscape by Brian Eno."
The good news is that this is one of those records that grows on you the more you listen to it, the more time you invest in it. These are not the greatest songs Simon has ever written—he's already earned his spot in the songwriter's hall of fame—but they do capture the zeitgeist of the post-9/11 world through a combination of lyrical imagery and "sonic landscape."
Is there an audience for this kind of sophistication and experimentation?
The CD's opener, "How Can You Live in the Northeast?" tells you this is not the Paul Simon of your childhood. You may not know what to make of it at first, but by the third listen you'll be singing along. "Everything About It is a Love Song" has a U2 Joshua Tree sheen, but with a decidedly non-pop alternating tempo structure. "Outrageous" might actually be a hit—the "Who's gonna love you when your looks are gone" refrain is irresistible, and its opening line is the perfect editorial on the Bush era: "It's outrageous to line your pockets off the misery of the poor."
There is whimsy---the bride who drives over the border on her wedding day in "Another Galaxy," the snowman "sittin' in the sun" in "Beautiful"—plenty of funky rhythmic playfulness, occasional instrumental nods to the Graceland era, and the naked honesty of "Father and Daughter" ("There could never be a father who loved his daughter more than I love you).
Surprise is an unexpected return to form for Paul Simon, proof that at 64 years old, the creative juices are still flowing.
copyright © 2006 Jim Newsom. All Rights Reserved.