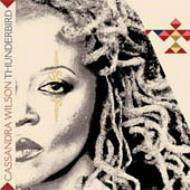 Cassandra Wilson
thunderbird
Blue Note
Erin Bode
Over and Over
MaxJazz
Cassandra Wilson started her recording career twenty years ago as an actual jazz singer, compared to Betty Carter in her readings of the standard repertoire. But by the time she signed with Blue Note in 1993, she was stretching the boundaries on her way to creating the unclassifiable genre-free music for which she's become known. (Her second Blue Note disc, New Moon Daughter, included songs by The Monkees, Hank Williams, Billie Holiday, U2, Hoagy Carmichael and Neil Young.)
Her new CD, thunderbird, is about as far from what most of us think of as jazz as a quote-jazz singer-unquote can get. When I loaded it onto my iPod, I couldn't decide what genre to assign it, finally settling on "blues," though that's not really accurate either. One thing for certain though—she is one sensual, sexy singer.
Here, producer T-Bone Burnett puts her into that dense, rootsy aural atmosphere that is his trademark. Instruments and ambient sounds appear, then recede, and there's a mystical mistiness hanging over the whole affair like a swamp full of Spanish moss out in some dark, voodoo-laced rural countryside far away from the main drag. The Mississippi-born Wilson sounds right at home.
There's Willie Dixon's "I Want to Be Loved," Blind Lemon Jefferson's "Easy Rider" and a slooooowwwww walk through the old cowboy song, "Red River Valley;" lots of slide guitar; a touch of Dylan (Jakob, not Bob); and a sample of the Wild Tchoupitoulas on the magnificent opener, "Go to Mexico." Wilson's take on Burnett's "Lost," accompanied only by Marc Ribot's guitar, is beautifully seductive, and her own "Poet" is something else: "When we make love, we change the patterns of the weather…you make me a poet."
Unlike the traditional jazz album where a bunch of musicians come in for a few hours of live recording, this is a producer's record, painstakingly assembled track by track and probably unrepeatable in concert. Not what you useta expect from Blue Note, but one hell of an album for those with open minds and open ears.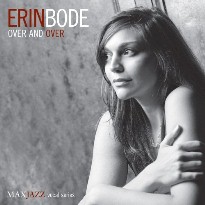 As is Erin Bode's Over and Over. Bode and Wilson have nothing in common except that both record for jazz labels, and neither fits easily into any readily identifiable musical bag. Where Wilson is earthy and sultry, Bode is light and feathery. She has a definite jazz sensibility, in a Tierney Sutton kind of way, but her choice of material and instrumentation places her over on the singer/songwriter side of the musical spectrum. Think Indigo Girls, Norah Jones without pretension, Jim Croce's serious side, Brazilian chanteuse Astrud Gilberto.
The St. Louis-based songstress cowrote ten of the fourteen songs on this CD with pianist Adam Maness, and they are striking in their melodic originality and lyrical playfulness. ("There must be something more, something wonderful in store; a fantiferous sensation that will knock me on the floor.") I fell in love with her approach to other people's songs on her first album, Don't Take Your Time, but here the original material gets inside your skin and just makes you feel good, even when she's giving a lover the kiss-off in "Perfect World." The opening "Holiday" is a hit song waiting for a radio format to fit into.
Her rich reinvention of Paul Simon's "Graceland" built on Maness' left hand piano lines doubled by acoustic bass is irresistible, and her melancholy reading of "Holding Back the Years" (remember Simply Red?) accompanied only by acoustic guitar (Maness again) is compelling. I like the touch of cello here and there, and Seamus Blake deserves to be singled out for his fine tenor sax work on a number of tunes.
Erin Bode is already on the fall schedule of the new Suffolk Center for Cultural Arts. I plan to be first in line for tickets. Until then, I'll just keep her punched up on my iPod right next to Cassandra Wilson, two gorgeous women with musical minds of their own.
copyright © 2006 Jim Newsom. All Rights Reserved.