For nearly 25 years, Jimmy Masters has been the go-to guy for acoustic bass on the local jazz scene. Born in Holliston, Massachusetts, in 1954, he moved here with his family fourteen years later. He's spent most of his life since then living in Hampton Roads. Besides playing music, he has a day job as an investment advisor.
He gave me the Reader's Digest version of his life story recently over lunch: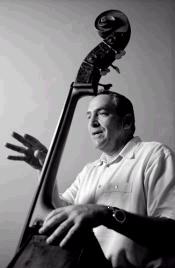 "My first influence with music was seeing The Beatles on Ed Sullivan. Among five kids, I was the one that gravitated to the living room with my dad to hang out with the reel-to-reel player and listen to Sinatra and Count Basie and a lot of big bands that he used to love.
"Ray Brown was on Merv Griffin when I was nine or ten years old. I just became absolutely fascinated with the standup bass. Merv would bring him right down to the front, Jack Sheldon would be playing trumpet and Merv would be singing. I would leave the football or baseball game---whatever was going on down the street---to run home and catch Merv so I could watch Ray. I'd get my mom and show her the bass.
"I met some guys in my neighborhood who had a band and needed a bass. I had been taking guitar lessons for a couple of years, so my dad pulled the lawnmower out of the garage and said, 'There's 250 houses in the neighborhood---You need a bass, go cut some grass. So I did it the old-fashioned way, saved up some money and bought an electric bass.
"We started going to the Hampton Jazz Festival when it first started. We saw Cannonball [Adderley], Elvin Jones, Duke Ellington. I was listening to everything---Lester Flatt and Earl Scruggs, the Grateful Dead, Coltrane."
"I graduated from First Colonial in '72, and didn't go to college right away. My dad got me a gig with the telephone company. I did that for a year, then went away to Berklee College of Music. I actually got run over---I was riding on a friend's motorcycle and a drunk guy ran us over, busted my leg in three places. I wound up getting $9,000.00, so I bought a Volkswagen van and went to Berklee. That was really my first exposure to a lot of jazz. I went there on electric bass.
"I improved dramatically in a short time. I came back here and played in some rock bands and did disco gigs. Then I got into the sheetrock business and quit playing for six years.
"[In 1981] I bought this homemade electric bass that a guy made out of a table top with a Fender neck on it, and started going to jam sessions. About two years into it, I bought an upright bass, the one I play now, for 250 bucks and spent a couple of grand getting it restored.
"In the '80s I was playing gigs, had surgery for carpal tunnel, drove a cab in Norfolk. I was playing seven hours a day, just sheddin'.
"I met Stephen Bennett about ten years ago. And that opened up a whole 'nother avenue of music outside of jazz; it was really revisiting music that I loved years ago. I do a little bit of everything now and it's all music that I love to do.
"I know a ton of people that play so many different styles of music that I get to play with. I'm the luckiest guy in the world."
copyright © 2006 Jim Newsom. All Rights Reserved.