When you're an instrumentalist fronting a band whose music has vocals, but no lyrics, it's hard to keep coming up with fresh recordings that sound different from one another, no matter how gifted you and your playmates may be. Guitarist Pat Metheny has defied the odds, compiling an incredibly diverse discography over the last thirty years, recording and performing in a myriad of contexts, always tastefully musical while remaining immediately identifiable.
A classmate of Bruce Hornsby's at the University of Miami, the Missouri-born Metheny first gained notice in the jazz world playing with vibraphonist Gary Burton in the mid '70s while barely out of his teens. He teamed up with pianist Lyle Mays to form the Pat Metheny Group in 1977, releasing their first album the following January. The PMG's distinctive sound quickly captured the ear of the listening public, and Metheny became one of the few jazz artists whose popularity enables them to follow their own muse wherever it may take them. His has taken him on a fascinating ride, with his own group and with others.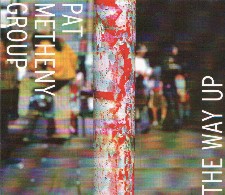 Metheny released his fourteenth recording under the PMG banner a few weeks ago, and it's the most ambitious project he's undertaken to date. Structured as one 68-minute composition, The Way Up is bound to add to his collection of 16 Grammies in nine separate categories. It debuted in the number one position on the contemporary jazz charts. The Pat Metheny Group arrives in town Wednesday night for a performance at Chrysler Hall on the last leg of a 35-date cross-country tour.
"The Way Up," Metheny told JazzTimes magazine, "is a reaction to a world where things are getting shorter, dumber, less interesting, less detailed, more predictable."
Collaborator Lyle Mays amplified his partner's thoughts: "I'm hyperaware of what I consider the artificial lack of time that's been imposed on life…I don't know why time is in such short supply. Where did it go? Who's keeping all the time from us?"
The new CD requires an investment of time. Although one of the categories Metheny's been honored in by the Recording Academy is "new age," the PMG's music has always had a depth unmatched by most of their contemporaries. They've raised the bar to an even loftier height this time out. National Public Radio's Tom Moon called it "an epic journey."
Metheny, Mays and longtime bassist Steve Rodby are joined by a trio of recent band additions. Drummer Antonio Sanchez and trumpeter and wordless vocalist Cuong Vu have been on board since the Speaking of Now album in 2002. Swiss born harmonica man Gregoire Maret is a new addition, bringing a previously unheard element to the Group's sonic palette.
"As we were writing the piece," Metheny says, "I kept feeling there was a voice in the story that was missing. It was a breath sound, but not Cuong, not singing…I have to admit that I wouldn't have thought of hiring a harmonica player until hearing Gregoire. He is one of those rare musicians whose talent transcends his instrument and you hear the sound of his spirit when he plays."
Metheny himself breaks out his huge collection of guitars for the recording, layering a variety of plectral textures from pure acoustic nylon strings to that distinct otherworldly electric tone that is so recognizable. In order to produce the multi-part guitar orchestrations live, the core sextet is being joined by Brazilian guitarist/multi-instrumentalist Nando Lauria on tour. After the current American swing wraps up in New York City, the band takes a couple of weeks off, then heads out for the rest of the world, spending the next three months in Japan, Korea and Europe.
Reviews from other venues indicate that the three-hour show has been opening with a complete performance of The Way Up. The Chicago Tribune's critic raved that the Group "added new dimensions in bringing the entire piece to a live audience."
The new album will certainly be judged near the top of everyone's "Best of" list at the end of the year. In fact, Thomas Conrad wrote in JazzTimes, "Responsible critics ought not to choose their record of the year in January, but it is difficult to believe that a more ambitious, more profoundly realized, more important album will appear in 2005."
I have to agree with that assessment. The wealth of musical riches that Metheny, Mays and company bring to this CD is deeply rewarding and immensely satisfying. I am certain that Wednesday night's concert in Chrysler Hall will be too.
copyright © 2005 Jim Newsom. All Rights Reserved.