THE END OF THE HIPPIE IDEAL
The Isle of Wight is an island just off the southern coast of England in the English Channel. With a rich history dating back to the dinosaur days, the island, once the haunt of poets, mystics and other starry eyed visionaries, is now best known as a summer vacation destination as immortalized in Paul McCartney's "When I'm Sixty-Four:" "Every summer, we can rent a cottage in the Isle of Wight, if it's not too dear."
When festival fever began gripping the world of rock music in the late '60s, the island became the home for several of the biggest outdoor extravaganzas. Jefferson Airplane headlined the first one in 1968 and Bob Dylan and the Band upped the ante the following summer. But it's the 1970 edition that most people are referencing when they talk about the "Isle of Wight Festival." There were 600,000 in attendance, Jimi Hendrix gave his final major concert performance there three weeks before his death, and several live recordings and DVDs have been issued through the years. They called it "Britain's Woodstock," though it pretty much marked the end of the massive money-losing, multi-day rock fests.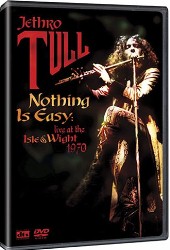 "This was the end of the hippie ideal," Jethro Tull's leader Ian Anderson states in the newly released DVD, Nothing is Easy: Live at the Isle of Wight 1970. "This was where the whole thing imploded...It was somewhere between Donovan and a football crowd of hooligans, that sums up the Isle of Wight…and terribly English."
Capturing Jethro Tull's performance on the final night, August 30, 1970, it's more an historical documentary than a straightforward concert video, splicing Anderson's present day commentary in between scenes from the festival and songs from the band. What mars this presentation format is the rerunning of concert footage that was shown a couple of minutes earlier while Anderson discusses aspects of the music and its presentation.
Nonetheless, the antics that would make the band a concert favorite are here: Dressed in his bathrobe, pajamas and knee-high leather boots, Anderson literally devours the stage with James Brown kneedrops, one-legged flute poses and air guitar ala Cocker, ever the manic maestro directing the band and the proceedings. The music is classic Tull---"My Sunday Feeling," "My God," "Nothing is Easy," "Bouree" and an encore medley of "We Used to Know" and "For a Thousand Mothers." The obligatory drum solo in "Dharma for One" is just as boring now as it was then, but there's a power to the music even at its sloppiest.
The band's performance, however, is almost secondary.
When a fan says, "The music isn't revolutionary at all, it's just big business," he has no idea how prophetic his statement will prove to be. As a sociological study, Nothing is Easy presents a compact portrait of a time still being debated and defined, simultaneously idealized and reviled, and of a generation in the throes of transition.
THE PAST IS PRESENT
If you were in the crowd when Jethro Tull played the Norva three years ago, you know Ian Anderson and company still put on a great rock show. You may also know that hearing 1,500 middle aged baby boomers lustily singing, "Snot running down his nose/Greasy fingers smearing shabby clothes" is kind of silly. Perhaps you also discovered that being sardined together with a bunch of strangers for three hours to watch your favorite rock band has lost some of the appeal it had back in the days of peace, love and togetherness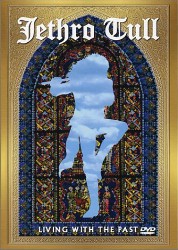 If that's the case, I have good news for you: Jethro Tull's DVD from 2002, Living with the Past, is very good. In fact, it's one of the best "classic rock" video presentations I've seen. You can enjoy it in the comfort of your own home, see it anytime you choose, pick who you want to share the experience with, and choose whether or not to spill beer on yourself or knock over any of your own furniture with your merry madcap dancing.
When I spoke with Anderson from his home in England prior to the Norva show, he said he wanted the DVD to be more than simply a live concert video. "I wanted to make something that was a little bit more involved," he said, "a little more varied, with some non-musical elements as well, to give it a little more shape and form for two hours of entertainment."
And, indeed, he and the band accomplished that on Living With the Past. The basic concert footage was recorded in November '01, in London's Hammersmith Apollo Theatre. Both sound and video are excellent, and the production is topnotch. Interspersed between the songs are interviews with band members, all of whom turn out to be literate, humorous and full of interesting stories of the rock life and Jethro Tull.
The London concert footage is interspliced with video footage from an outdoor concert at what looks like a state fair in Anytown, USA, as well as incidental shots from a few other performances. The show is edited in a manner that provides just enough straight band-in-action footage for a slow moving old geezer like myself, but still has sufficient quick-cut action that my teenage son thinks it's hip.
There are also three songs recorded by the original four-piece 1968 Tull lineup at a pub in the middle of England. The guys have all aged and put on a little paunch, but the music still sounds crisp and bluesy. Take a look at the cover of the first Jethro Tull album, This Was, and you'll notice it's a picture of these same four guys made up to look like old codgers. Then compare what they really looked like 34 years later.
The song selection on Living With the Past matches up pretty closely with the setlist played at the Norva. There's material from each era of the band's history, and, as is typical of a Tull album or concert, there are hard rockers, soft acoustic asides and lots of stuff to sing along with.
In a refreshing but unusual move for a live rock recording, the audience noise and applause is mostly edited out. It really is like having a private Jethro Tull concert live in your living room.
copyright © 2005 Port Folio Weekly. Used by Permission.