MONK TRAVELS BY TRANE
I don't know if it's a good thing or a bad thing that many of the best jazz CDs being released these days are reissues or reconfigurations of recordings from the past, primarily the '50s, '60s and early '70s when jazz was vital as a music but losing out in the popularity race to rock-n-roll. Be it good or bad, it is a fact that the old stuff being repackaged is often better than what's being put out by contemporary performers.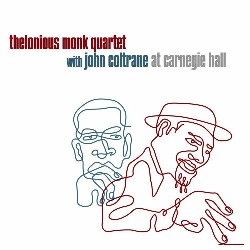 An interesting corollary to that trend is the emergence of newly discovered recordings in the vaults of record companies and broadcast organizations, performances that have never been commercially released before. Usually audio transcriptions of live concerts, these lost or forgotten tapes can heighten our appreciation of the artists whose work is uncovered.
On November 29, 1957, the day after Thanksgiving, Carnegie Hall hosted a benefit concert for the Morningside Community Center that starred an illustrious lineup of jazz greats---Dizzy Gillespie, Ray Charles, Sonny Rollins, Billie Holiday, Chet Baker. Billed fifth on the promotional posters was the Thelonious Monk Quartet with John Coltrane. The show was taped by the Voice of America for broadcast overseas but was apparently never aired, and the tapes ended up in a massive collection of material later acquired by the Library of Congress.
In February of this year, Larry Appelbaum of the LOC found several reels of tape labeled "Carnegie Hall Jazz 1957." Among the stash was a box marked "T. Monk." Voila! It turns out this was the long-rumored recording of the Monk/Coltrane ensemble's mythological performance that night.
From a historical perspective, this find is exciting because the two legends only played together in a working band for six months, Monk was finally being recognized as the eccentric jazz genius he was, and Coltrane was emerging as a giant nonpareil on the tenor saxophone. From a purely musical standpoint, it is magic. The digital transfer from the original mono tape heard on the just released Thelonious Monk Quartet with John Coltrane at Carnegie Hall (Blue Note) is pristine in its clarity.
As a longtime devotee of both Monk and Coltrane, I must tell you that this is as good as it gets, essential listening for anyone interested in jazz. The setlist includes several of Monk's classic compositions, including "Epistrophy," "Blue Monk," "Evidence" and "Crepuscule with Nellie," and the pianist is in fine form. Trane's solos are inspired and, due to the short 25-minute sets played on the multi-star program, compact (for him) and to the point, brimming with melodic ideas, furious technique and musical muscularity.
The CD includes both sets the group played that night, with a fade on the final (and second) version of "Epistrophy" as the tape ran out. It is compelling from start to finish, a new "must have" for every jazz lover.
__________________________________________
Maceo Parker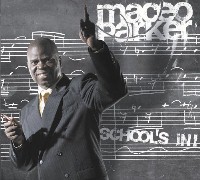 School's In
(BHM)

Who: former James Brown sideman and doctor of funkology

Sounds like: a back-to-school party

Is it any good? Maceo Parker helped write the book on funk during his lengthy tenure with JB. The Kinston, North Carolina, native was there for classic '60s workouts like "Papa's Got a Brand New Bag" and "Cold Sweat" and later lent his saxophonic chops to the Parliament/Funkadelic gang and Bootsy's Rubber Band. After Mr. Dynamite's incarceration, Parker began cranking out his own CDs, blending funk and jazz into a combustible high octane mixture that is musically satisfying and downright fun. School's In may be his best yet, with fresh new versions of the J5's "ABC" and Sam Cooke's "Wonderful World" sprinkled amidst Parker's originals. Other than the attractive ballad, "Song for My Teacher," this disc sounds like a non-stop on-campus party where the professor shows the kids how to really get down. Maceo's alto soars, the horn section roars, and the rhythm is relentless…Get up and shake your tailfeathers!

_________

The Dylan Project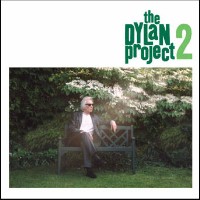 2
(Matty Grooves)
Who: side project by three-fifths of Fairport Convention and friends
Sounds like: a Dylan soundalike with a damn good band
Is it any good? Judged on its own merits, this is a pretty good folk-rock album. Still, you'll be forgiven for wondering what the purpose is. That's because lead singer Steve Gibbons (once labeled "the British Bob Seger") sounds so much like Dylan that you keep thinking about the original versions of these songs. The all-Bob repertoire is wide ranging, covering familiar tunes like "I'll Be Your Baby Tonight," "Leopard-Skin Pill-Box Hat" and "Subterranean Homesick Blues" and more obscure stuff like "Tweeter and the Monkey Man" (remember the Traveling Wilburys?), "Heart of Mine" and "TV Talking Song." The cocktail jazz take on "Ballad of a Thin Man" is both interesting and illuminating, and you've probably forgotten "Billy" from the Pat Garrett and Billy the Kid soundtrack. This may not end up on many "best of" lists for the year, but I keep coming back for another listen...and it keeps getting better.
copyright © 2005 Port Folio Weekly. Used by Permission.
---