---

PortFolio Weekly
February 15, 2005
Return from Forever
by Jim Newsom
If you were listening to electric jazz fusion in the early 1970s, you may remember Bill Connors as the original guitarist when Chick Corea took his Return to Forever band into the high voltage electric arena. Connors played on only one RTF album, Hymn of the Seventh Galaxy, a powerhouse of supercharged rock rhythms and breakneck jazz soloing, a more melodic successor to John McLaughlin's similarly structured Mahavishnu Orchestra outings.
Connors could've gone on to become a guitar god, as did his replacement in Corea's group, Al DiMeola. Instead, he chose to go in a completely different direction, concentrating on acoustic guitar and delving into the works of classical guitarists. He did pick up his electric again for a trio of albums in the '80s, but by then his name was known primarily as a footnote in jazz history.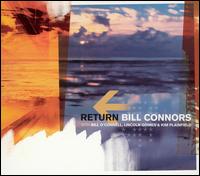 The aptly named Return on the Tone Center label is Bill Connor's first recording in nearly twenty years. In the interim, he's become one of those "Where are they now?" questions that music lovers enjoy so much. The exciting thing about this CD is that Connors' style has grown and expanded, and Return will be a happy surprise to those who've wondered "Whatever happened to…"
The sound Connors gets from his hollow-body Gibson L5 guitar is clean and unadulterated, his articulation, even in speed demon unison passages with pianist Bill O'Connell, pure and crisp. The setlist mixes tempos and compositional forms effectively, giving the disc a sense of variety even though all tracks feature the same quartet lineup augmented by occasional percussion. The most obvious standout track is the opening "On the Edge" with its catchy melodicism and shifting rhythmic pulse. It is reminiscent of his old employer's post-RTF work. Several tracks, in fact, have the ring of the familiar in their similarity to RTF itself, but without the distortion pedals.
The whole affair sparkles with the excitement of rediscovery. It's mighty nice to have Bill Connors back on the scene.
copyright © 2005 Port Folio Weekly. Used by Permission.
---