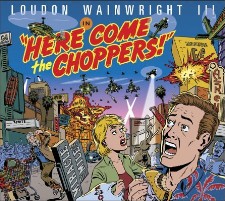 LOUDON WAINWRIGHT III
Here Come the Choppers
(Sovereign Artists)
I have always maintained that Loudon Wainwright III is best when his music is least adorned, a man alone with an acoustic guitar being his most effective guise. He continues to be one of pop music's finest wordsmiths so it's important to be able to understand what he's saying. Plus, he just sings better when he's not trying to shout over a screaming rock band.
As I looked at the credits on his new CD, Here Come the Choppers, my fear was that he might be buried in overblown arrangements. Fortunately, my concerns were unnecessary, though the lyrics are less obvious than a longtime listener might expect. Old Loud-o has learned to work to his strengths and the quartet of accompanists he employs for this recording is quite sympathetic. Americana-jazzman Bill Frisell's Nashville sensibilities and the steel guitars and mandolin of Greg Leisz create a more laidback country ambience than that of Wainwright's Westchester County urban folkie days.
The song that most grabs your attention the first time through is "Hank and Fred," a song written in Montgomery, Alabama, in which he tells of a visit to Hank Williams' grave the day Fred Rogers died, linking the two while recounting the history and heroes of that southern city. "No Sure Way" takes the narrator on a New York subway ride that includes a stop marked "WTC:" "They say heaven's high above us, hell's not far below; in that subway tunnel, there was no sure way to know."
This time out, LWIII gives us few moments of outright hilarity, and an over-riding air of melancholy colors Choppers. There's family commentary and history in "Make Your Mother Mad," "Half Fist" and "When You Leave," a happy celebration of a beloved grandmother in "Nanny," and Loudon's umpteenth dissection of love in "Had to be Her."
__________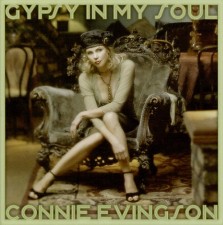 CONNIE EVINGSON
Gypsy in My Soul
(Minnehaha Music)
Connie Evingson is a Minnesota songbird and radio host whose last album, Let it Be Jazz, was the most successful marriage yet of jazz sensibilities with the music of Lennon & McCartney. She's also recorded a tribute to Peggy Lee and a loving reinvention of Broadway tunes (I Have Dreamed). Her new release, Gypsy in My Soul, goes in a totally different direction. Having fallen in love with the music of Django Reinhardt's Hot Club of France Quintet from the 1930s and discovering some of the modern purveyors of that style of music, she brought three of those groups into the studio with her to produce this paean to the genre. And though one doesn't normally associate vocals with the Hot Club style, it works very well.
Seattle's Pearl Django accompanies Evingson on seven of this album's fifteen tracks, and besides loving the band's moniker, you've got to love Raphael Fraisse's continental violin. "Gypsy in My Soul" and "Caravan" stand out because of the clarinet work of the Parisota Hot Club's Tony Balluff.
Only a couple of the songs are actually Django compositions, and Evingson sings one of them, "Nuages," in French, while putting her own lyrics to "Anouman," calling it "Django's Premonition." "April in Paris" sounds like it's straight out of the cafes of its namesake city, complete with accordion and more French singing.
Evingson has a sultry, sexy voice that both invites and intoxicates. With this CD, she has found a way to put a fresh face on old warhorses like "Night and Day," "Lover Come Back to Me" and "Caravan," and she brings out the swing hiding inside "Nature Boy." It's a delicious addition to her pantry of musical delights.
copyright © 2005 Port Folio Weekly. Used by Permission.