A COUPLE OF OLD FRIENDS
Between the Amphitheatre and the Pavilion, most of the major concert tours make a stop in our area these days. This year there's one that's not, and it's a shame. Kenny Loggins and Jim Messina have reunited for a summer tour this year, and it's the reunion tour of the season, with rave reviews being posted from each stop along the way. But the closest they get to us is Columbia, Maryland.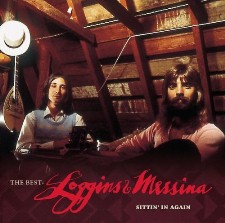 It's been 29 years since Loggins & Messina last performed together, but for a brief period beginning in 1972, they were the most successful duo in the music biz. When they met, Loggins was a little known songwriter whose claim to fame was that "House at Pooh Corner" had been recorded by the Nitty Gritty Dirt Band on the album that contained that band's smash hit, "Mr. Bojangles." Though the same age as Loggins, Messina already had brushes with fame under his belt as a member and producer of Buffalo Springfield (with Stephen Stills and Neil Young) and as co-founder of Poco with another Springfield alumnus, Richie Furay.
Messina had just begun a new gig as a staff producer with Columbia Records when he got the nod to produce Loggins' first album. As the sessions went on, the two blended their voices and musical ideas together so well that the album, Kenny Loggins with Jim Messina Sittin' In, led to a formal partnership, the formation of a band, and a place in pop music history---three great albums and a couple of other pretty good ones, plus a cookin' live show built around a musical blend that encompassed rock, folk, country and jazz. It all came to a halt in a somewhat acrimonious split in 1976, followed by a successful solo career for Loggins and a number of lower-profile musical and artistic projects for Messina.
To celebrate the duo's return, Sony Legacy has issued a new 18-track "Best of" collection called Sittin' In Again, and it's hard to quibble with the setlist: "Pooh Corner," "Your Mama Don't Dance," "Danny's Song," "A Love Song," "Watching the River Run." Fan favorites like "Vahevala" and "Long Tail Cat" are here, along with band jam workouts "Angry Eyes," "Same Old Wine" and "Sailin' the Wind."
If you were around when this stuff first came out, you'll be in harmony heaven with this beautifully remastered set. If you've never heard of L&M, this is your chance to discover music that still sounds fresh, original and uplifting.
__________________________________________
A PEARL OF A GIRL
It's been a long time since I put a Janis Joplin recording on my turntable, CD changer or iPod. Her sweat-soaked, ragged jagged scream-drenched vocal style doesn't have the same appeal to my aging ears as it did back in 1969 and '70. But listening to the new Legacy Edition of her posthumously released masterpiece, Pearl, I am reminded of how much power she packed into her all-out performances. I'm surprised to rediscover just how good the album actually was and how well it still holds up today.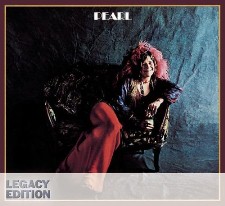 The ten-song original has never sounded better: the rockin' opener, "Move Over," ("You say that it's over baby…"), the from-another-planet screech that opens "Cry Baby," the funkified "Half Moon," the Aretha-inspired gospel of "My Baby," and the two centerpieces, an a cappella "Mercedes Benz" (recorded three days before her death) and the Kristofferson-penned hit single, "Me and Bobby McGee." There are doses of the blues ("A Woman Left Lonely" and "Trust Me"), an organ-fried instrumental ("Buried Alive in the Blues") and the closing proclamation to "Get it While You Can."
Disc one of this 2-CD reissue is rounded out by several alternate takes and Janis' solo demo of "Me and Bobby McGee," the most interesting of the bonus tracks. But for hardcore Janis-o-philes, and perhaps even for the curious, the second disc may be still more intriguing. It's a 13-song set recorded during the one-week Festival Express tour in the summer of 1970, captured at four stops along the Canadian railroad line from Toronto to Calgary. Here's Janis and her Full Tilt Boogie band in all their sloppy glory, playing songs the crowds knew from her first two albums and trying out the new stuff they'd be recording a couple of months later. It's a riveting look at the state of rock and roll and one of its legendary bound-for-tragedy performers in that last great festival summer.
copyright © 2005 Port Folio Weekly. Used by Permission.