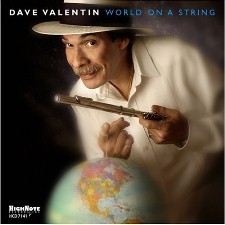 Dave Valentin
World on a String
(HighNote)
Trio da Paz
Somewhere
(Blue Toucan)
The Latin side of jazz has long been a fruitfully productive subgenre, adding to the rhythmic diversity of the music while incorporating instruments, voices and performers from the Caribbean islands to the South American continent. Dizzy Gillespie is widely credited with popularizing the musical hybrid when he added Cuban conguero Chano Pozo to his big band in 1947, but it was probably another Havana native, Machito, whose music inspired Gillespie's exploration in the first place.
Sixty years later, today's Latin musicians have grown up in an atmosphere of experimentation and cross-fertilization, and they continue to make a significant contribution to the currency of jazz. Puerto Rico-born, Bronx-reared flutist Dave Valentin has been one of the most popular of the last two decades. Considered by many to be the logical heir to the flute throne of the late Herbie Mann, Valentin's playing style is actually very different, more like his teacher Hubert Laws, his ambient choices less distinctive. But he and his band have consistently kept the "Nuyorican" torch aflame with passion and purpose.
His HighNote debut, World on a String, continues in the tradition he established with his catalog of GRP releases in the '80s and '90s, but with slightly less of a commercial pop sheen. I love it. Between Valentin and his longtime sideman, pianist Bill O'Connell, most of the tracks are originals, and they smoke. Ronnie Cuber's bari sax ignites "Passion Fruit," but generally it's the quadruple percussion section that really fires this baby up. And the flutemaster himself is in top form.
The world needs more flute-driven jazz (says the local flute guy) and Dave Valentin is in the best position to get the job done. With World on a String, he does.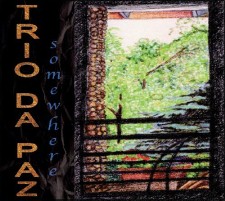 While most people think of Latin jazz as being relentlessly hot-hot-hot, it ain't necessarily so. How about the introspective melodic excursions of Antonio Carlos Jobim, for example? Well, that's the Brazilian sub-subgenre, one that is every bit as invigorating as the Afro-Cuban side, though generally not as boisterous.
I first came across Brazilian guitarist Romero Lubambo when he was playing with the aforementioned king of jazz flute, Herbie Mann, in the late '80s, and was mucho impressed. He and his band, Trio da Paz, played here at the Town Point Jazz & Blues fest in 1995, if memory serves, and they continue to dish up a tasty blend of North and South America on their newest release, Somewhere.
Lubambo is as good an acoustic guitarist as you are going to find, reminiscent of Charlie Byrd in his classically-trained stylings. Bassist Nilson Matta and drummer Dudka Da Fonseca are considered to be among the best of their generation's Brazilian exports. The setlist includes a definitive ride through the Miles Davis classic, "Seven Steps to Heaven," a gorgeous take on Leonard Bernstein's "Somewhere" and a couple from the pen of Jobim himself. The closing "Corcovado" is sublime.
The threesome sambatizes "Ding Dong the Witch is Dead" at a fiercely funky pace, turns Grover Washington, Jr.'s signature tune, "Winelight," into a delightfully furious bossa nova, and twists "Take Five" into a hard to count 3/4 vamp (or is it 6/8; who cares, it sounds so fine!)
Trio da Paz (which translates as Trio of Peace) may be too lowkey and sophisticated for some, but for those who can appreciate musicality that's fiery without being loud and overbearing, Somewhere offers infinite pleasures.
copyright © 2005 Port Folio Weekly. Used by Permission.