When Jo Dee Messina's first album came out nine years ago, I thought she might be the daughter of Jim Messina, one-half of the '70s megaduo Loggins & Messina. Apparently I wasn't the only one.
"It is so funny," she told me recently from Nashville. "Tim McGraw was co-producing me and people would ask him, 'Is she any relation to Jim Messina?' And he'd be like, 'Oh yeh!' And I said, 'Tim…stop!' And he said, 'Oh, you're not?!?'"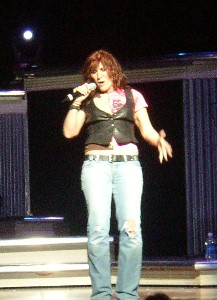 In fact, Jo Dee, who's at the Ferguson Center for the Arts Sunday night, grew up in Holliston, Massachusetts, about thirty miles southwest of Boston.
"There's four kids," she said of her family. "I'm the baby. Mom and dad divorced when I was four. I saw my dad every other weekend and I had a great relationship with him and with my mother.
"Everyone was musical. One of my sisters is in the business---she's a critic, but not country. My brother's a drummer and he plays in his church, but mainly he programs computers---that's his day gig. My other sister played acoustic guitar, but she hasn't played in years. She has four kids---that's the end of that!"
Though her home state isn't normally thought of as a hotbed for country music, Messina felt a kinship at an early age.
"I listened to everything," she reminisced. "And it's interesting when you think back: There was a time when music was just music, it wasn't so heavily formatted. So that was my life. My life didn't have a format; it was just all about music. It didn't matter what kind.
"I think I was more attached to my country records because it seemed like a more personal connection. It was a more intimate connection with the country artists. Patsy Cline, Tammy Wynette, Loretta Lynn, Reba McIntyre---It was almost like they were me, they were speaking my words, my story, my life."
She began fronting her own band and singing in local bars when she was thirteen. At nineteen, she made the gutsy decision to move to Nashville all by herself.
"You know," she laughed, "at that point I was so focused on what I wanted to do, and naďve to everything---living on my own, moving to Nashville, thinking that I have a great band up here and I sing and I play out a lot so I'm gonna get a record deal. I had no concept that there were 50,000 incredibly talented singers here. I was mediocre compared to these people!
"I bought a little tiny house my second year here and lived there for six years. [There was one] winter that I didn't have any heat. I had an electric stove but no running hot water; I couldn't afford to get the gas turned on. I choose not to be a victim, so it was like this is what I'm going to do: Get under the heating blanket at night and thank God I have electricity.
"I worked temp jobs, then I got hired full-time. And that was my life for about a year. I wasn't singing at that point, and then I started singing in talent contests to pay the bills and stuff, and started winning those. I won a chance to perform on a radio show, and then [producer] Byron Gallimore heard me and the ball started rolling. After I got the record deal, my whole belief was I had not been doing what I was intended to be doing, which was singing. I was working a day job and wasn't singing, and the whole reason I was here was to be a singer. I was just working to survive."
After getting that record deal, she began stirring up sparks right out of the box, winning the Country Music Association's Horizon Award and being named top new female vocalist by the Academy of Country Music for her self-titled first album in 1996. Her next two outings, I'm Alright and Burn, built her profile even higher in sales, popularity, awards and esteem. But her non-stop work-work-work life ultimately caught up with her.
"A couple of years ago I just kind of shut down for a little while and restructured my whole life," she explained. "I would work seven days a week, 24 hours a day. I was in the middle of everything, and I was just crushed by all the deadlines and expectations and responsibilities; I shut down and went away for awhile. Looking back on it now, I think I just needed a break. I needed to step off the merry-go-round. And I'm glad I did because I've simplified my life and I look at little things like, 'Oh my God, I get to sing for a living,' and it makes me feel like a kid on Christmas morning."
Her latest CD, Delicious Surprise, is filled with the rockin' energy that has always infused her live shows. Powered by the huge hit, "My Give a Damn's Busted," the album debuted in Billboard's Pop Top 10 when it was released this spring. Back on track, Jo Dee Messina shared this nugget of wisdom:
"If you believe that anything is possible, then your life will be filled with delicious surprises. That's what it all boils down to. We live in a world where you can say 'I want this and I dream of that and I'd love to do this someday.' And people will say, 'Let me tell you why that won't happen, why that can't happen and why that isn't gonna happen for you.' We're surrounded by a bunch of naysayers.
"But you got to keep believing, because if you don't believe you're not going to try, and if you don't try then it's not going to happen. If you believe, then your life will be filled with all sorts of things."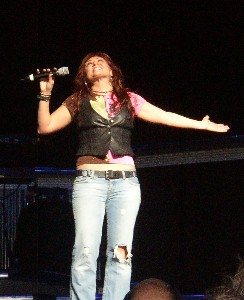 copyright © 2005 Port Folio Weekly. Used by Permission.