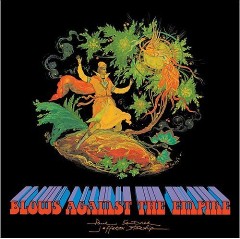 Paul Kantner/Jefferson Starship
Blows against the Empire
RCA/Legacy
Jefferson Starship
Red Octopus
RCA/Legacy
By the time Volunteers was released in November, 1969, Jefferson Airplane had become the most political of popular rock bands. Led by guitarist Paul Kantner's rousing anthem, "We Can Be Together," the album placed the Airplane squarely in the forefront of musical activism, just as the decade's youthful spirit of progressive change and revolutionary rhetoric was about to implode into the "Me Decade" that followed.
But it wasn't just politics and societal agitation that propelled Paul Kantner's songwriting. There had also been a strain of science fiction slinking through his lyrics, most fully realized in "Wooden Ships," the song he coauthored with Stephen Stills and David Crosby. So, when Jefferson Airplane went on hiatus in 1970, Kantner and singing partner/soon-to-be-wife Grace Slick took to the studio with a few high profile friends to flesh out a loosely configured concept album about a bunch of politically charged hippies hijacking a starship to start a new civilization on another planet.
As with most thematically conceived records of the time, the resulting Blows against the Empire works better as a collection of songs than as an integrated concept. Nonetheless, it's an interesting extension of the direction the two had been heading with their band, and contains a mix of blazing, mostly acoustic guitar & piano rockers, with those same free-range harmonies that were a signature characteristic of the Airplane.
"Let's Go Together," "Have You Seen the Stars Tonite" and "Starship" would have fit snugly on Volunteers, while the beautiful melody of "A Child is Coming" sails off into the upper atmosphere before yielding in midsong to a mesmerizing chant of optimism, "it's getting better, it's getting brighter."
Blows Against the Empire was credited to Paul Kantner/Jefferson Starship, the first hint that the plane was morphing into a spacecraft. Five years later, the transition was complete, and Jefferson Starship had become an actual band, led by Kantner and Slick with latter day Airplane violinist Papa John Creach and a bunch of Frisco pals who'd been helping out with their solo/duo projects of the intervening years.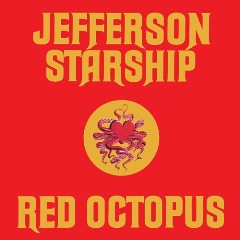 Red Octopus was the second official Jefferson Starship album, and it fortuitously reunited Kantner and Slick with their Airplane singing partner Marty Balin. It was Balin's sensual slice of sexy romanticism, "Miracles," that thrust the album and the band to heights of commercial success never approached by its predecessor aggregation. While some fans of the old band were turned off by the new, more mainstream approach, it was, after all, the disco era and much of the music here had a harder kick than the rest of the stuff on the radio.
The leadoff "Fast Buck Freddie" is as solid a rocker as anyone produced in the mid '70s, "Play on Love" predates what Fleetwood Mac was about to do in the same vein, "Tumblin'" is another pretty Marty Balin lovesong, and "I Want to See Another World" is prototypical Kantner in his bombastic guise.
With the Legacy reissues of these two classic '70s albums in richly restored and remastered editions complete with bonus live cuts, demos and alternate versions, Jefferson Starship's own legacy can be more accurately evaluated and appreciated. It's a trip worth taking.
copyright © 2005 Port Folio Weekly. Used by Permission.