I have a confession to make: Among the guilty pleasures that I generally don't admit to publicly is an infatuation with the music of Herb Alpert and the Tijuana Brass. This is not a crush that developed while Herb and the TJB were big stars in the '60s. Actually, I used to think they were pretty corny, with that faux-mariachi sound and the gringofied Mexican outfits and musical motifs.
But now, forty years later, hearing this music takes me back to a different time, one that, at least in my memory, seems like a happier, more innocent period. When you hear the TJB, you're automatically transported back to The Dating Game, The Ed Sullivan Show and AM Top-40 radio. If you are a certain age, you know what I mean.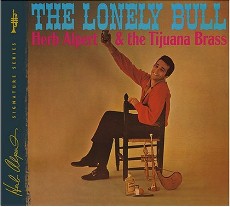 Herb Alpert burst onto the national pop charts in 1962 with a little instrumental ditty called "The Lonely Bull." The song originally had the working title "Twinkle Star" when composer Sol Lake gave it to his trumpet playing friend. Alpert, who had achieved some music industry success as co-writer (with future record producer/exec Lou Adler) of Sam Cooke's "Wonderful World," had recently witnessed a bullfight down in Tijuana's Plaza de Toros, and was looking for a way to capture the excitement musically.
With $500.00 they'd made from leasing an Alpert vocal to another record company, he and his business partner Jerry Moss recorded the renamed "The Lonely Bull" with studio musicians and the actual sounds of on "Ole!" shouting crowd, putting it out as a 45-rpm single on their own label, A&M. The response was immediate and incredible. Within two months, the record was in the national Top Ten.
Shortly thereafter, The Lonely Bull album appeared and was quickly on the turntables of everyone's parents. Herb Alpert and the Tijuana Brass went on to release nine albums and provide an important element in the soundtrack of the '60s. A&M records became a major player in the music industry and Herb Alpert himself became a superstar and record industry tycoon.
Alpert and Moss sold A&M to Polygram in 1990 for more than half a billion dollars, and Alpert's recording career continued long after he stopped using the TJB moniker. But he has now licensed all those old records to Shout! Factory, a record label and multimedia company that claims to be "dedicated to what you grew up on but never outgrew." During the course of the coming year, the entire TJB catalog will appear in stunning new digipaks complete with new fact and photo filled booklets as the Herb Alpert Signature Series.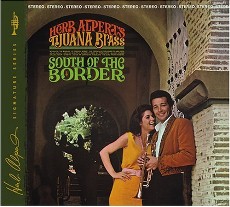 The first three releases came out in February, including The Lonely Bull, the album that started the whole phenomenon, and South of the Border, the group's third LP that was released as The Beatles arrived in 1964. All of the familiar elements are in place, the brassy two trumpet/one trombone front line, the Spanish-flavored guitar strumming, touches of marimba and the tambourine-propelled rhythm section. There's plenty of corn too, both in some of the choices of material and in occasional arrangement missteps, like the silly stereotypical Mexican-inflected vocals on South of the Border's "Hello Dolly."
But there are lots of cool nostalgia-inducing moments, like when you hear "Mexican Shuffle" and know you know it, but you can't quite put your finger on why. Here's a clue---it was used as the music bed for Teaberry gum commercials.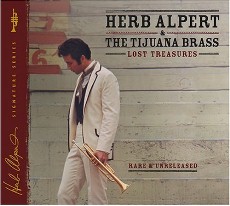 The third CD in this first batch of releases is called Lost Treasures, and it's just that, a collection of 22 previously unissued tracks that is surprisingly good, especially considering they originally wound up on the cutting room floor. The opening "Up Cherry Street" is a N'Orleans version of a song that appeared on South of the Border. The group's take on "Lazy Day" puts a casually laidback sheen on Spanky and Our Gang's 1967 hit.
Lost Treasures mixes TJB instrumental takes on the hit songs of the day with original material and a few post-Tijuana cuts from the early '70s, like the funky marimba-backed ride through James Taylor's "Fire and Rain." It's fascinating to hear rarities like Alpert's vocal on a samba-ized adaptation of "(They Long to be) Close to You," a version that was wisely canned in favor of the ballad arrangement that took The Carpenters to number one in 1970.
This is all a great deal of fun, very much out of synch with the cynicism and sarcasm of our current age. But if you can suspend your hard-boiled skepticism for a moment and allow yourself to drift back to your youth when anything was possible and dreams often came true, you may just find yourself bouncing around with a big smile on your face listening to the rediscovered music of Herb Alpert and the Tijuana Brass.
copyright © 2005 Jim Newsom. All Rights Reserved. Used by Permission.