Norfolk was the place to be for guitar connoisseurs when two of the best from the generation born in the mid-'50s came to town within three days of each other---jazzman Pat Metheny with his Group on Wednesday, March 23rd, and acoustic folkie Stephen Bennett with Orpheus on Saturday, March 26th. Though they have made their names in different genres, each came of age in the fertile pop music fields of the '60s, and each has created a unique musical identity.
Pat Metheny brought his new album to Chrysler Hall Wednesday night for a crowd of about 2,000 mostly middle-aged ex-rockers, and in so doing, recreated the spirit of 1970s art-rock while displaying the hottest chops of any jazz-inflected guitarist of his generation. The stage set was straight out of a Yes concert circa 1973. Metheny's longtime musical mate Lyle Mays looked just like Rick Wakeman with his waist-length hair, spidery fingers, synth stacked atop the grand piano encamped within a crescent of keyboards and electronics. Metheny himself had a guitar tech in perpetual motion, delivering various guitars tuned and mounted onto stands on cue for the next passage. And his billowy locks still have that curly poofed-out look of the early post-'60s.
It was very '70s, yet very 21st century. Mays doesn't need the number or size of keyboards that Wakeman, Keith Emerson and others used thirty years ago. One electronic keyboard can now approximate the sounds of a battalion of old-school models. And the Apple notebook computer in the mix obviously wasn't with us way back when.
The piece itself, "The Way Up," one-upped Yes, ELP and Jethro Tull, running 25 minutes longer than anything those groups could produce during the vinyl era simply because of the additional storage capacity of the CD. It's an ambitious work that goes through multiple moods while intermittently returning to core melodic themes. Much of the recording's nuance was lost in the caverns of Chrysler Hall, adding to the impression of a rock concert rather than a jazz experience. The trumpet and harmonica touches often disappeared into the mist Wednesday night and the more cacophonous passages came across longer and more bombastic than on record.
Nonetheless, it was an impressive performance that held the audience spellbound while its multiple climaxes brought eruptions of applause and mesmerized wows. There was ample space for each bandmember to stand in the spotlight, with the quieter moments being the most impressive and expressive. Drummer Antonio Sanchez seemed to be a crowd favorite, and Metheny himself ran the gamut, from gentle acoustic passages to blistering fret-burning electric runs.
After the conclusion of "The Way Up," Metheny said, "This is where we'd normally say that was from our new album. But that was our entire new album!"
And it was just the beginning of the concert. Metheny himself never left the stage for nearly three hours. He proceeded with a duet with Sanchez that amounted to whacking off on electric guitar. But from there the show was one magical music moment after another as Metheny played in various combinations with his bandmates, drawing from his lengthy discography for material mostly familiar to the faithful.
Mays showed what a fine, sublime pianist he is, while bassist Steve Rodby played the role of rock solid anchor, shining brightly when the focus came his way. Gregoire Manet played beautiful lines on his chromatic harmonica and shared vocal and percussion chores with Cuong Vu, whose frenetic trumpet solos occasionally disappeared into the hall's recesses but always impressed. Seventh man Nando Lauria stayed busy adding guitar textures and percussive touches to the blend.
When it was all over, the crowd was emotionally and musically spent, but Metheny himself looked like a kid ready to run around the playground for another couple of hours.

On Saturday night, a different kind of guitar guru came to town. Stephen Bennett didn't have as far to travel as Pat Metheny, living just up the road in Gloucester County. And he was at the other Chrysler, in the Kaufman Theatre at the Chrysler Museum, playing for an audience of 100 who paid $18.00 a piece instead of the $60.00 it cost to see Metheny.
The occasion was a performance by Orpheus, the part-time musical collective made up of four of eastern Virginia's finest musicians. I would stack them up against anybody. Bill Gurley's instrumental arsenal includes guitar, fiddle, mandolin, banjo and mandocello, and he plays each one of them expertly. Jimmy Masters has been the first-call acoustic bassist in these parts as far back as most of us can remember. Steve's brother Jim Bennett is the sleeper of the group, a wonderfully talented pianist whose quiet demeanor belies a killer on the keys.
These guys had a ball, and so did the listeners. Drawing mostly from their own compositions with localized titles like "Afton Mountain" or silly ones like "Dill Pickle Rag," the quartet alternately tore up the new theatre and wafted beautiful melodies through the recently renovated rafters. Bennett was the musical maestro, moving among the guitars arrayed around him with utmost precision. There was no guitar tech, no roadies at his beck and call, just a semi-circle of guitars on the floor from which he chose. Be it regularly-strung six-string, twelve-string, National steel resonator, baritone or tenor, his playing was truly virtuosic and genuinely melodic. And he even blew a mean clarinet on "St. Louis Blues."
Gurley was also impressive, particularly in a guitar duet with Bennett and every time he picked up his fiddle. He's also a fine singer and songwriter, whose folkish originals were poignant highlights of the evening.
Bennett himself was content to be a part of the band, only pulling out his harp guitar for one solo number, a beautiful composition inspired by the famous NASA picture taken by the Hubble telescope called "The Eye of God." The sound was heavenly, and provided an interesting comparison with Pat Metheny's tune on his harp guitar-like instrument, the Pikasso. Bennett's traditional model has two necks and twelve strings, looking and sounding like something the angels brought down to earth, made for him by Jim and Dave Merrill of Williamsburg. Metheny's is a four-necked, 42-string model specially made for him by Canadian luthier Linda Manzer that looks like it was left here by aliens from outer space.
Both angels and aliens would have loved the shows at the two Chryslers.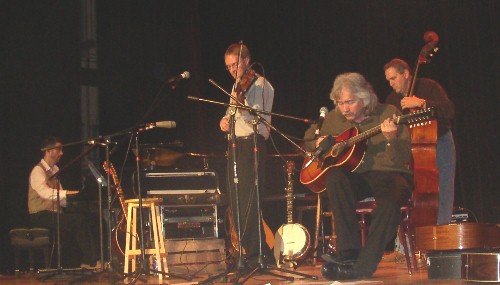 copyright © 2005 Port Folio Weekly. Used by Permission.