---

PortFolio Weekly
February 1, 2005
Super New to You
by Jim Newsom

What is SACD?

In the never-ending search for the latest and the greatest in consumer entertainment, Sony and Philips jointly developed the Super Audio CD format using Direct Stream Digital (DSD) technology to advance and refine the aural landscape offered by digital CDs. The first SACD players appeared (at very steep prices) in 2000.

Because DSD's sampling rate is sixty-four times higher than the PCM technology used on regular CDs, the sound is produced more accurately than on the CDs we've come to know and love over the last twenty years. The developers claim that SACD "is much more natural and accurate in staging, and is often favorably compared with the best analogue recordings, but without the hiss and other artifacts that are also associated with analogue recordings."

Considering that most young music buyers today are unlikely to be impressed with this incremental-to-the-ears increase in sound quality---they listen to mp3s and I-tunes, where sound quality is inferior to that of regular CDs---a primary marketing tool for SACD is its surround-sound capabilities. Like DVDs, Super Audio CDs can be mixed to the six-channel surround-sound format creating a listening experience like sitting smack dab in the middle of the band.

SACD uses a DVD disc rather than a CD disc and can consequently hold seven times as much information as a regular two-channel CD. Therefore a Super Audio CD can have both a stereo and a multi-channel mix on it. Most of the product being currently issued is on a "hybrid" SACD which adds a regular CD layer to the DVD disc, meaning that even if you don't yet have a SACD player, you can still buy a SACD disc and play it on your CD player. And you can also play it on your DVD player.

For jazz lovers, the advent of SACD recordings is yet another opportunity to rediscover the treasures in the catalogs of the great jazz record companies. There have been several waves of jazz reissues during the CD era, with each technological advance offering a new opportunity (or excuse) to resurrect the classic and near-classic albums of the past.

The Fantasy family of labels has begun combing through the masters of the several record companies it owns to enter the SACD market. I recently picked up a sampling of the current batch and I can't get enough. Though I only have a regular CD player, the sound is crisp and clear, and the music is sublime: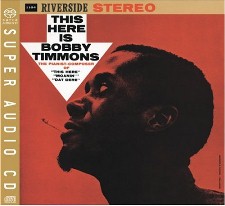 Pianist Bobby Timmons was a pivotal figure in the "soul jazz" movement of the '50s and '60s, working with Art Blakey and Cannonball Adderley. He recorded his first album as a leader in 1960 for the Riverside label, with bassist Sam Jones and Miles Davis' drummer Jimmy Cobb. This Here is Bobby Timmons is a wonderful trio outing featuring his best known compositions, "Moanin'," "This Here" and "Dat Dere." It also spotlights Timmons' piano playing proficiency, often overlooked because of his compositional prowess, with a gorgeous solo take on Billy Strayhorn's "Lush Life" and inventive trio trips through "The Party's Over," "Prelude to a Kiss," "My Funny Valentine" and "Come Rain or Come Shine." Whether you are familiar with him or not, this reissue is the one to get to fully appreciate the multi-talented Bobby Timmons, who ended up another sad early-death jazz statistic, succumbing to cirrhosis of the liver in 1974 at the age of 38.
Timmons' bandmate in the Cannonball Adderley Quintet was cornetist Nat Adderley. Though Nat spent most of his career in the shadow of his older brother, he outlived him by 25 years and accumulated a lengthy discography in his own right. Two weeks after recording This Here, Timmons joined Adderley in the same New York studio for a sextet outing released by Riverside as Work Song. The title track would be Nat Adderley's most famous original composition, and the album itself is considered to be Nat's finest. The full ensemble's front line includes guitarist Wes Montgomery and cellist Sam Jones for five tunes, with smaller combinations employed for the remaining four.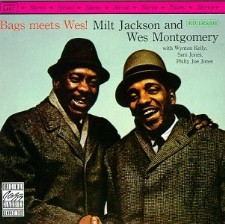 Montgomery is the co-leader on Bags Meets Wes, a 1961 session with vibes giant Milt Jackson and a rhythm section featuring pianist Wynton Kelly, and the Jones boys, Sam and Philly Joe, in the anchor slots. Jackson was already well established at the time, particularly for his work with the Modern Jazz Quartet, while Montgomery had just begun setting the jazz world on fire with his Incredible Jazz Guitar album a year earlier. This disc includes Jackson's classic "S.K.J." and Benny Golson's "Stablemates," and leans toward a swingin' blues format on most tracks, with two ballad takes on "Stairway to the Stars" thrown in for variety and Victor Young's funky "Delilah" added as a bonus to the original setlist. It's one of those magic sessions where the material and the players jibe perfectly.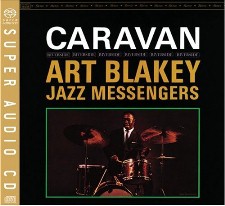 Bobby Timmons was just one of many future greats to pass through Art Blakey's Jazz Messengers. The strongest unit Blakey ever led was probably the group that joined him for his first Riverside recording in 1962, Caravan. Simply listing the lineup is all that's needed for a jazz aficionado to understand: tenor saxophonist Wayne Shorter, trumpeter Freddie Hubbard, trombonist Curtis Fuller, pianist Cedar Walton and bassist Reggie Workman. All would go on to the highest jazz heights, and jazz critics and historians agree that this was one of the best small bands of all time. Sprinkling three Shorter originals and Hubbard's "Thermos" amidst Hoagy Carmichael's "Skylark," "In the Wee Small Hours of the Morning" and the leader's drum workout on the title track, Caravan captures the hard bop branch of the jazz tree bearing its ripest fruit.
At the time of its original release in 1958, Cal Tjader/Stan Getz Sextet listed Latin vibesman Tjader first. When it was reissued four years later after Getz's commercial success with "Desafinado," the record company flipped the billing. On the sleeve of Fantasy's new SACD reissue, the cover is the original with Tjader first (he's on the left in the picture) but the spine lists the saxophonist first. Ah well, the fleeting vagaries of jazz fame.
Oh yes, the music contained within is something to be treasured. Each of the co-leaders brought along a couple of his sidemen for the sessions, with future Charlie Brown TV composer Vince Guaraldi on piano and Eddie Duran on guitar from Tjader's working band. Getz brought drummer Billy Higgins and teenaged bassist Scott LaFaro. Basically a jam format, the result is one for the record books. Guaraldi's opening "Ginza Samba" clocks in at eleven minutes long, a masterpiece of melody, rhythm and musical interaction. You'll recognize the tune, though you probably won't know the title. There are three cookin' Tjader originals and three standard ballads, all combining for one tasty outing.
---