Will you still need me, will you still feed me,
When I'm sixty-four?
The words are Paul McCartney's, but Bob Dylan has gotten there first and the answer is apparently a resounding "yes." It's been a yearlong celebration of Dylan's 64th birthday, actually beginning several months early with the publication of Chronicles, Volume One, his unsurprisingly eccentric autobiography, last October.
This month brings a much publicized multi-media look back at Dylan's prime, years that stretch from the end of his high school days in Hibbing, Minnesota in the late '50s up to his motorcycle accident on July 29, 1966, the turning point that marked the end of one era and the beginning of another, less frenetic one.
Next Monday and Tuesday, PBS (WHRO-TV locally) airs a four hour film directed by Martin Scorsese as part of its American Masters series called Bob Dylan: No Direction Home. This show features rare performance footage, interviews, reflections and music from Dylan's first five years on the scene. It's eagerly anticipated because, for once, Bob himself cooperated with the producer and speaks frankly about his life and that period.
A double DVD of the program including additional material not included in the television broadcast comes out this week, and The Bob Dylan Scrapbook 1956-1966, is being published simultaneously by Simon & Schuster.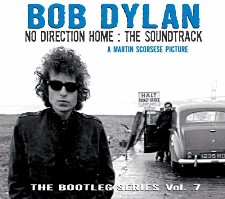 But music is first and foremost meant to be heard, and the "soundtrack" to No Direction Home was released a couple of weeks ago by Columbia/Legacy. I put the word "soundtrack" in quotations, because this 2-disc set doesn't qualify as such in the traditional Hollywood sense. The songs are the same, but the performances sometimes aren't. For example, the film includes footage of Dylan playing "Mr. Tambourine Man" at the 1964 Newport Folk Festival; the CD uses a take of the song captured in the recording studio with Ramblin' Jack Elliott pitching in on ragged harmonies. Neither has been available before.
And that's the fun of these two CDs. Though you know most of the 28 songs, you haven't heard these versions---live performances from various locales, bedroom tapes, alternate takes from recording sessions and an unused outtake from Freewheelin'. It's a fascinating look at the creative process in the days when musicians actually played together at the same time in a recording studio rather than mailing in their parts as overdubs.
The set is divided in half, with the line of demarcation the same as that of Dylan's albums, disc one being all acoustic folk music, disc two venturing into electric rock and blues with the 1965 sessions for Bringing It All Back Home. There are four cuts recorded by friends in Minnesota, two that predate his relocation to New York, and two from a holiday visit home in December '61, after his first year in Greenwich Village.
The version of "This Land is Your Land" included here is a non-anthemic arrangement captured live that first November that sounds like the 20-year old is carrying the weight of the dust bowl on his skinny shoulders. "Sally Gal" was cut for Freewheelin' but was bumped, I assume, in favor of the more substantial but just as lively piece of fluff, "Honey, Just Allow Me One More Chance." "Blowin' in the Wind" and "Masters of War" come from a Town Hall concert in April '63, and "Chimes of Freedom" was recorded at the 1964 Newport Folk Festival.
As disc one ends with the first studio stab at "It's All Over Now, Baby Blue," and Dylan begins his move away from folk purity into Beatles-and-blues-inspired rock-n-roll, this set becomes truly illuminating. It could be argued that the drummerless version of "She Belongs to Me" here tops the take issued on Back Home and the sloppy shuffle of "It Takes a Lot to Laugh, It Takes a Train to Cry" is a fun variation on the Highway 61 Revisited blues rocker we know so well. There are four more alternate, earlier-than-the-released-version takes from the Highway 61 sessions, each intriguing and full of surprises---fuzztone bass and Johnny Cash-like backing vocals on "Tombstone Blues," Al Kooper's electric guitar figures on "Desolation Row," flubbed attempts to fit all the words into "Highway 61 Revisited" itself, and lyrical variations as Bob works his way through his own inventions.
From the Blonde on Blonde sessions, there's a slow, lengthy blues prowl through "Leopard Skin Pill-box Hat;" a mellower look at "Stuck Inside of Mobile with the Memphis Blues Again" that gives an old Dylanite like myself a fresh perspective on a song I long ago wore out; and a surprisingly loud and electric "Visions of Johanna" that sounds nothing like the soft "Johanna" issued back in '66.
You get to hear Peter Yarrow's introduction at the 1965 Newport fest followed by "Maggie's Farm," the electric workout to which many in the audience reacted with vehement negativity. It's not a great performance---the band sounds like they're still learning the song---but knowing the context adds to its potency. The live "Ballad of a Thin Man" and "Like a Rolling Stone" from Dylan's controversial 1966 tour of England offer compelling evidence that he was at his musical peak just before disappearing from the public eye following the motorcycle mishap that summer.
This set is essential listening, not just for Dylanphiles but for anyone interested in how rock and roll transformed itself from disposable music for teenyboppers into an important artistic and societal force.
copyright © 2005 Port Folio Weekly. Used by Permission.