"If you really say something that the powers-that-be don't like, you don't last very long."
That's what Dick Smothers told me recently, and he knows whereof he speaks. For two years, he and his brother Tom had the hottest show on television, particularly with the flower-powered younger generation of the time. Then, in the spring of 1969, their program, The Smothers Brothers Comedy Hour, was abruptly cancelled after a series of very public censorship disputes when the president of CBS claimed they had not submitted an advance tape for review by the network's censors in a "timely manner."
"We weren't cancelled," Smothers corrected the record during our conversation. "Cancelled is the process of not getting picked up. You cancel a contract. We were fired. We were picked up and fired for a season we hadn't even started yet.
"We were fired after Nixon got inaugurated. Everyone knows that he was politically very paranoid, and why would he want this show on Sunday night that everyone watched? The religious conservatives were up in arms about it; there were people saying you shouldn't do that type of material on Sunday night. There was nothing on our show that hadn't been done before---the only groundbreaking thing we did was to do it at 9:00 on Sunday night. But it wasn't sexy or anything. It was just light, tasteful humor that poked fun at the government."
The Smothers Brothers, who perform with the Virginia Symphony Pops Saturday night at Chrysler Hall, didn't intend to become political lightning rods in the culture wars of the '60s. In fact, their humor was of a gentler variety, and their albums from the first half of the decade offer no clues to the political maelstrom their TV variety show would stir up after its premiere in February, 1967. Ironically, the duo didn't even plan on being comedians when they started performing together.
"I don't think people would've said those funny guys are going to end up in show business," Dick replied when asked about their childhood. "It's just part of the quirky personality, I think, part of the upbringing, the environment, the time.
"The fact is that when we started singing in college [at San Jose State in 1959], there was never a comedy element of it until we started fooling around with the folk thing. Tommy just made up stories, just lies, because he didn't know anything about folk music. And he got a laugh. That's when I first realized that Tommy could say absolutely nothing of any merit or substance, and get a laugh. That is really the mark of a comedian. When a good comic reads a script and the writer says, 'these are where the laughs are,' that guy who's really funny gets laughs where they're not even written."
So the Smothers Brothers routine evolved organically, from a pair of siblings---Dick on bass, Tom on guitar---playing straight folk music during the Kingston Trio era, into one of the funniest comedy teams of all time. Their 1962 album, The Two Sides of the Smothers Brothers, reflected that evolution in progress, being half serious material and half songs played for a laugh.
"We didn't have a plan at the start of the career," he explained, "It was just doing it---Tommy had this talent and I didn't. But I've developed into a very good straight man for him. It teaches you to listen. The reason that the show worked so well is that we listened and we talked. And our characters are almost role reversal---Tom is really not like that offstage; in fact I'm more like that than he is.
"The early albums were pretty basic. 'Mom liked you best' came out of frustration; it was just an adlib. I had totally demeaned him, told him everything that was wrong with him, that he wasn't even fit to live. 'Oh yeh!?! Mom always liked you best!' which was hammering the last nail in the coffin of his self-esteem.
"It developed in a natural direction. Had we planned it out, we would have missed the boat. Tommy's older and he would've said, 'I'll be the boss and you be the dumb one.' Our act sort of grew in its own shape and it's much better now than it was originally. Music is our framework, but we touch on a lot of different issues in a subtle Smothers way where we don't hit you over the head. So that people still have something to chew on, but they're not depressed when they leave the show."
The brothers are actually the longest running comedy team in history now, in their 47th year as a working duo. They have a full performance schedule, and often work with symphonies as they will here. Dick described it as a variety show, with fully orchestrated musical accompaniment, video clips from the old days, Tommy's famous "yo-yo man" routine, and "very few jokes; it's all situational."
Still, the Smothers Brothers will always be remembered for their couple of years at the top of the television heap as the turbulent sixties reached their denouement.
"The sixties happened to make the show," he said. "We didn't create it. The Vietnam thing came up, the civil rights thing came up. We just happened to have that big soap box, and we had great, young writers. The show was put together in a terrific manner, everything was right.
"But we were nightclub performers before we did TV, and that's what we do now. The Smothers Brothers are still entertaining. That's our number one priority."
So…whom did mom actually like best?
"You don't really want to know that," Dick Smothers answered softly. "It takes all the magic out of it. Let's just say mom liked me best."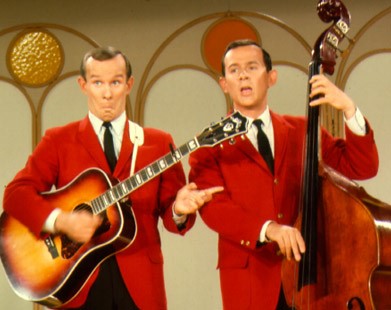 copyright © 2005 Jim Newsom. All Rights Reserved.