---

PortFolio Weekly
January 18, 2005
Recordings
by Jim Newsom
SHARING THE LIGHT
At the dawn of the '70s, Alice Coltrane produced some of the most spiritual music ever committed to vinyl in the name of jazz. Her two albums recorded in 1970, Ptah the El Daoud and Journey in Satchidananda created a mystical soundscape built on droning Indian motifs and repetitive minor modality that felt like the opening of the gates of heaven, enveloping and transforming the listener through passion and intensity.
In a sense, those recordings completed the voyage her husband, saxophone giant John Coltrane, had begun five years earlier with A Love Supreme. After his death in 1967, she continued to evolve both musically and spiritually, not only through her records but also by founding the Verdantic Center in California for Eastern spiritual study.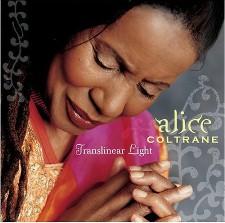 Retiring from public performance in 1978, she raised her sons Ravi and Oran in this environment. As he began making a name for himself in his own right in the jazz world, Ravi Coltrane coaxed his mother into the studio several times over the last five years to produce Translinear Light (Verve), a labor of love that marks Alice Coltrane's re-emergence in the public eye. It's a masterpiece in a genre all its own.
Many of the elements of her music from three decades ago are still in place, with her distinctive harp-like piano style showering waves of notes through the air. In fact, the only thing missing from her unique instrumental repertoire is the harp itself, an instrument which she used to divine other-worldly effect on those earlier recordings. But her unusual Wurlitzer organ is on display here, presenting a smooth, synth-like tone that is 180 degrees away from the standard Hammond B-3 you're used to hearing in jazz and blues.
The music on Translinear Light is spare and open. Some of the material comes from the past, including two John Coltrane compositions ("Leo" and "Crescent"), but both updates and new works blend together in a seamless mesh that flows like a placid baptismal river. Ravi's tenor on "Blue Nile" fills in where Pharoah Sanders and Joe Henderson traversed on the original take 34 years ago.
At 67 years old, Alice Coltrane doesn't make music for the masses, and she clearly has never compromised her artistic integrity. On this disc, Ravi has surrounded his mother with old friends Charlie Haden and Jack DeJohnnette as well as younger lions Jeff "Tain" Watts and James Genus. The result is a timeless, transcendent recording.
__________________________________________
WINTER-TIME BLUES
My biggest disappointment while down in New Orleans for the Sugar Bowl was the music. Yes, I know that sounds like sacrilege, but though there was music pouring out of bars and holes-in-the-wall all along Bourbon Street and throughout the French Quarter, most of the bands there were cranking out generic three-chord guitar-based blues. There is nothing more clichéd.
But once upon a time, some of the most exciting music being produced came from guitar slingers working off a blues foundation. That time was the late '60s, and one of those 6-string originals was a young albino from Beaumont, Texas, named Johnny Winter. Inked by Columbia Records in 1969 in the wake of the massive success of Cream and Jimi Hendrix, Winter received the largest signing bonus in recording history at that point, and the hype began. Known now primarily as the illustrated man of rock for the body full of tattoos he's acquired, he started his recording career as the next big thing on electric guitar.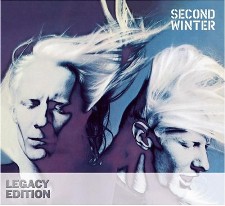 His eponymous debut was good, but it was Second Winter, released in October of '69, that really captured the attention of the record-buying public. One of the reasons was non-musical---this was the first (and only) three-sided record album. A double-record set, side four was literally blank. But man, those three grooved sides were hot!
Sony's Legacy division recently reissued Second Winter, and to hear it now is a blues/rock revelation. Very much of a piece with the work of Clapton and Hendrix at the time, it's a guitar lover's dream. The most celebrated track is a smoking ride down Dylan's "Highway 61 Revisited," but the album's mix of Chuck Berry, Little Richard and Texas roadhouse with Hendrixian licks and caterwauling vocals is a powerhouse of energy from beginning to end.
The original album makes up disc one of this reissue, but there's a bonus disc---Winter's quartet captured live at the Royal Albert Hall in April, 1970. Truthfully, the live set isn't nearly as interesting as the studio set, but it does show the bluesy potency of Johnny and his band. From a historical perspective, perhaps the most intriguing cut on the live disc is the early version of sax & keyboard playing brother Edgar Winter's "Frankenstein," used here primarily as an excuse for the obligatory drum solo.
Ironically, Johnny Winter never became the huge star he wanted to be and that Columbia expected him to become. After his next album, Johnny Winter And, featuring Rick Derringer and his brother Randy from the McCoys (and the original version of "Rock and Roll Hoochie Koo"), Johnny disappeared from sight for a while, another victim of heroin addiction. His career never recovered. Edgar, however, topped the charts in 1973 with a more fully realized arrangement of "Frankenstein."
Since kicking his drug habit, Johnny Winter has produced a lengthy discography of blues recordings. They're fine, but the audience has been limited. Second Winter is a reminder that for a couple of years he was one of the most inventive guitarists and ballsiest singers on the planet.
copyright © 2005 Port Folio Weekly. Used by Permission.
---