COLE KEEPS IT COOL
Freddy Cole is one of the most popular performers to be featured in the local Jazz on Granby series, wowing a packed house in 2002 and delivering a somewhat more subdued encore the Friday before Valentine's Day this year. Leaving Norfolk after that February concert, Cole went to New York City where he spent two days in the studio recording This Love of Mine, his new CD on the HighNote label.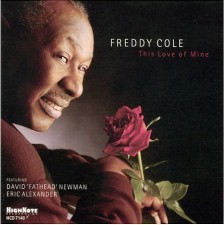 Among his guests at those sessions was David "Fathead" Newman, the legendary saxophonist who closed out the JOG season three weeks later. Newman sits in on only two tracks here, both ballads---the title track and "Out in the Cold Again"---and he acquits himself well, employing a mellow, full-throated lower register.
It's his delivery of such slower tempo pieces for which Cole has rightly received acclaim, and there are plenty here. But it's the lead-off "What Now My Love" and two other moderately uptempo swingers that immediately grab you the first time through. On the opener, Cole and company take the oft-recorded easy-listening standard and infuse it with a swinging groove that sets your head in motion and your fingers snapping. "That Old Feeling" is another song usually done slowly, but given new life with a crisp, punchy arrangement. "The Continental" has a similar foot-tapping feel, and all three are strengthened by the sympathetic, clear-toned tenor work of Eric Alexander, who is featured on five of the CD's cuts. His between-line fills and solo spots show this classically trained 37-year old saxman has a great feel for the jazz tradition, right down to a quote of "Jeepers Creepers" at the beginning of his "Continental" solo.
Local fans of Cole's live performances will be disappointed that his regular rhythm section isn't on this recording, and that Freddy himself plays no piano. But that's often the way it is in the jazz biz. The backing trio featuring pianist John Di Martino is a good one, though, and the musical setting is perfect. Though he's been making records for over 50 years, This Love of Mine ranks as one of Freddy Cole's best.
__________________________________________
PEERING INTO GERSHWIN'S SOUL
Where Freddy Cole is a pianist who also sings, Bill Charlap is a pianist who also arranges, and he plays with a deftness of touch rarely matched by his generation of musicians. Though still in his thirties, he's already produced a dozen or so recordings that will surely stand the test of time. His new Blue Note release, Bill Charlap Plays George Gershwin: The American Soul, is the third in a series of discs devoted to individual creators of the Great American Songbook, following on the heels of 2002's Stardust, an impeccable homage to Hoagy Carmichael, and last year's Somewhere: The Songs of Leonard Bernstein. I don't know who's next on the list, perhaps Cole Porter, Harold Arlen or maybe even Paul Simon or Smokey Robinson, but so far Charlap is three-for-three.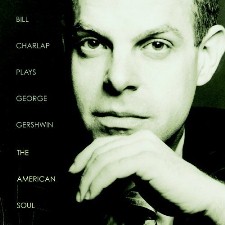 This one eclipses the Bernstein disc if only for sonic variety. Charlap has one of the great working piano trios in jazz, with the unrelated Washingtons, Peter and Kenny, on bass and drums, but an hourlong recording is eminently more listenable when there is a mixture of instrumentation. This one is about half and half---three trio tracks, two featuring trio with solo horn, four with horn quartet added to the basic trio, and a final solo postscript. Interestingly, my favorites at this point are the solo sax with piano trio cuts---"How Long Has This Been Going On" with a slow, sultry tenor sax lead by Basie veteran Frank Wess; and an incredibly beautiful "Bess, You is My Woman Now" on which Charlap's longtime employer Phil Woods milks maximum emotion from his alto sax while the pianist proves that less is often more, particularly on a slow tune with a gorgeous Gershwin melody.
You'll recognize most of the songs on the setlist, but probably not "I Was So Young (You Were so Beautiful)," on which the pianist pulls you into an intimate encounter with his own soul. "Liza" is a breakneck trio romp while "S'Wonderful" gets an old-fashioned jam session treatment, with trumpeter Nicholas Payton and trombonist Slide Hampton mixing it up with Woods, Wess and the rest of the gang. "A Foggy Day," "Somebody Loves Me" and "Nice Work If You Can Get It" put the leader's oh-so-cool ensemble-writing chops on display and give the whole septet plenty of room to play.
copyright © 2005 Port Folio Weekly. Used by Permission.