Every performer who survives more than a few years in the music business ends up putting out a Christmas album. And though the definitive versions of most of the holiday repertoire were laid down long ago by Nat King Cole, Frank Sinatra, Ella Fitzgerald, Andy Williams or the Boston Pops, every year some current somebody manages to slide down the chimney and into the consciousness of the shoppers, shopkeepers, revelers and radio programmers who make the season bright.
Last year's top new entry was James Taylor's A Christmas Album, one of those only-sold-at-Hallmark deals that was reasonably priced yet destined to become a perennial. The year before, it was the Jethro Tull Christmas Album that surprisingly entered heavy rotation on the "all Christmas from Halloween on" stations.
The big name entry in this year's sweepstakes is jazz chanteuse Diana Krall. Considering her crossover popularity, it's not surprising that Christmas Songs (Verve) currently sits atop the jazz sales charts and is doing well on the pop side as well. The good news, considering its ubiquity, is that it fits in nicely with its predecessors, with that swinging feel that works best on the songs of the season. There's nothing particularly surprising about the song choices other than the fact that Krall felt no need to create her own new wintry tune like most folks do these days, but it's a pleasant enough outing that will be around every season for years to come.
My personal favorite among the new offerings is one you probably haven't heard by an acoustic guitarist from Moorestown, New Jersey, named Jeremy Abbate. His first album, Fifth & St. Nick on the small Waxfruit label, is subtitled "seasonal songs re-imagined for solo guitar," and that's an apt description. Abbate is a talented guitarist whose style is reminiscent of Windham Hill founder William Ackerman, with hints of classical and blues mixed with new age beauty in his seasonal stew. On some of the eight cuts Abbate merely hints at familiar melodies, on others he gives them a freshly fleshed-out interpretation. He also contributes two pieces of his own. Fifth & St. Nick is more than a holiday CD, one that can still be enjoyed long after the presents have been unwrapped and the mistletoe has wilted.
This is also the season of reissues. Every year some oldie-moldie is rediscovered in a record company vault and repackaged for a new generation or for the folks who had it on vinyl the first time around.
2005 has been the year of Herb Alpert at Shout! Factory, with most of Alpert's Tijuana Brass catalog coming out on that label in beautifully packaged and pristinely remastered versions over the course of the year. Christmas Album from 1968 has long been considered second only to Whipped Cream & Other Delights at the top of the TJB discography, and here it is in all its schmaltzy cheeriness. No great singer, Alpert nevertheless gives "The Christmas Song" a unique interpretation far afield from Nat or Mel, and the instrumentals are filled with that Ameriachi bounce that characterized the band's run through the '60s. Though it's hard to believe this album topped the Billboard album chart three Christmastimes in a row, it's also hard to beat for sheer tree-trimming fun.
How you respond to Rocky Mountain Christmas, on the other hand, will depend entirely on how you feel about John Denver himself. Every bit as righteously earnest as most of his work was, this 1975 recording is out again on RCA/Legacy with two bonus cuts. The opening "Aspenglow" was already a well-known Denver song when redone here, but it still sounds just fine. He'd written "A Baby Just Like You" specifically for this album, reflecting on the joy he felt after he and Annie adopted a son the previous year. His chestnut roasting on "The Christmas Song" sounds either beautiful or cheesy based on your opinion of the singer's style, and much of the traditional fare chosen for this outing has that slow ballad sameness that afflicted much of his catalog. Bill and Taffy Danoff's "Please, Daddy (Don't Get Drunk This Christmas)" is the exception, and it's a novelty classic.
Finally, this year marks the 40th anniversary of A Charlie Brown Christmas. The Peak label has a new entry in honor of that milestone called 40 Years: A Charlie Brown Christmas that features David Benoit and a host of contemporary smooth jazzsters like Dave Koz, Brian McKnight, Vanessa Williams and The Rippingtons. It's fine for what it is, but it's hard to top the original soundtrack recording by the Vince Guaraldi Trio on Fantasy Records. Put it on and you'll be instantly transported back to the best days of your childhood, no matter how long ago they may have been.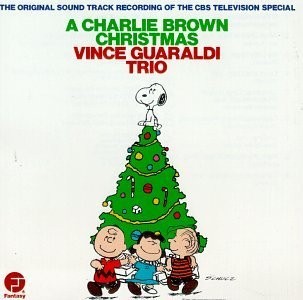 copyright © 2005 Jim Newsom. All Rights Reserved. Used by Permission.