Charles Darden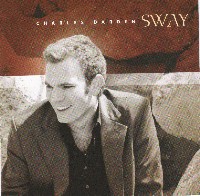 Sway
(Self-produced)

Who: Popular local jazz singer

Sounds like: A cross between Harry Connick, Jr. and Billy Eckstine

Is it any good? Charles Darden has developed quite a regional following, particularly among women. His Sinatra-esque stage presence, chiseled good looks and standard-filled repertoire bring out the ladies in droves. Sway places Darden in a sympathetic setting with some Virginia jazz heavyweights---Harris Simon on piano, Elias Bailey on bass and versatile drummer Rich Mossman.

Darden's phrasing owes much to Connick, but his vocal timbre is lower, thus the comparison to Eckstine, though not that low. Simon's piano work is exemplary whether comping or soloing, trumpeter Jonathan Greenburg's occasional brass blasts supply textural variety, and Darden's own saxophone playing has improved immensely. The one original, "Time to Heal," has a nice contemporary sounding melody that would be at home in the Anita Baker songbook. The rest of the set offers interestingly arranged takes on the Great American Songbook, with surprises like the Doc Pomus-penned gospel song, "There is Always One More Time," and the lesser known title track (not the Stones' rock song of the same name found on Sticky Fingers).

___________

Bobby Darin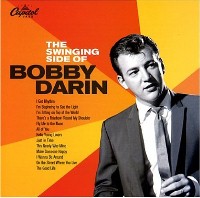 The Swinging Side of Bobby Darin
(Capitol Jazz)
Who: Mr. "Mack the Knife"
Sounds like: A decent Vegas lounge singer fronting a great big band.
Is it any good? Though he started out as an early rock-n-roll star with the silly ditty, "Splish Splash," Bobby Darin really wanted to follow in the footsteps of Frank Sinatra, not Elvis Presley. He had a huge success in that direction with "Mack the Knife," but when he switched from Atco Records to Capitol in 1962, he had difficulty gaining a foothold on popcharts then dominated by the folkies, early Motown, The Four Seasons, The Beach Boys and soon enough, The Beatles. Swinging Side captures Darin doing what he really wanted to do, singing standards in front of a swingin' big band. Only four of the thirteen tracks here actually saw the light of day when they were originally recorded, but the Baby Boomers' new-found fascination with this material may finally give Darin the audience he sought. This stuff does swing (though a slowed-down "Fly Me to the Moon" is a misstep), the arrangements are first rate, and Darin is better than Wayne Newton as a Vegas-style Sinatra wannabe.
___________
Joe Zawinul & the Zawinul Syndicate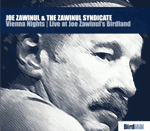 Vienna Nights
(BirdJam/BHM)
Who: Founding father of fusion
Sounds like: His old band Weather Report
Is it any good? There wouldn't be a Yellowjackets or a Spyro Gyra or a bunch of other bands of the last quarter century if there hadn't been a Weather Report first. Keyboardist Joe Zawinul was the mastermind behind Weather Report, linking up with saxophonist Wayne Shorter to form that groundbreaking aggregation in 1970 after a decade in the jazz heights with Cannonball Adderley and Miles Davis.
This new CD, recorded live at Zawinul's own jazz club in Vienna, Austria, shows that he is still carrying the torch for rhythmic, funky electric jazz fusion. Throwing a couple of Weather Report classics ("Badia" and "Boogie Woogie Waltz") in with a batch of newer tunes that could easily have come out of that era, he and his Syndicate keep the flame burning. There's no saxophone, but there is blazing guitar sharing the mix with the leader's keys, Jaco-like bass, wordless vocals and what sounds like an army of percussion. Takes me back to the '70s.
copyright © 2005 Jim Newsom. All Rights Reserved.