Since jazz is primarily an improvised music, is a tribute album that copies much of its honoree's playing note-for-note a good thing or not? That's the dilemma in considering Italian saxophonist Stefano di Battista's new Blue Note release, Parker's Mood. Not only does the 35-year old di Battista tackle a dectet of songs written by or associated with Charlie Parker, he channels the bebop giant so well that it sounds like he's literally playing Bird's actual improvisations at times.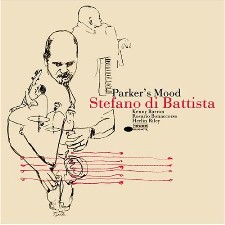 I'm not sure that this is a complaint. It's hard for any alto saxophonist to escape Parker's long shadow, and there is no denying the potency of this recording. I like it a lot. Di Battista and his accomplices capture the energy, enthusiasm, and proficiency of the man Dizzy Gillespie called "Yard" and the spirit of his time, sticking closely to the original arrangements recorded over a half century ago. The straightahead quartet renderings of Parker's breakneck classic "Donna Lee" and the gentler title track give him ample space to show off his Parkeresque chops. And if the real measure of a musician is his ability to play a ballad, di Battista acquits himself well on the Gershwins' "Embraceable You" and a beautiful take on Monk's "Round Midnight."
But for sheer joy, the most interesting cuts are the four on which fellow Italian Flavio Boltro assumes Dizzy's role on trumpet to recreate the Gillespie classics, "Salt Peanuts" and "Night in Tunisia," Parker's "Confirmation" and Tadd Dameron's cookin' "Hot House." It's as though you're back at the birth of bebop, but with modern recording technology.
Pianist Kenny Barron, who was here in December for the NPR piano jazz program at the Attucks, is his usual unique and creative self, spinning off imaginative lines with the greatest of ease. New Orleans native Herlin Riley holds down the drum chair, equally at home with sticks or brushes, and longtime di Battista pal Rosario Bonaccorso keeps the bottom end tight.
copyright © 2005 Jim Newsom. All Rights Reserved.