Bill Evans Trio
The Complete Village Vanguard Recordings, 1961
(Riverside)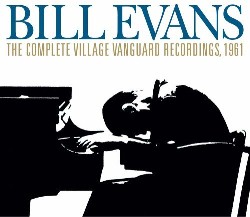 Sunday, June 25, 1961, is one of those landmark dates in music history, as important in its own way as July 7, 1956, when Duke Ellington's orchestra sparked a near-riot with its performance at the Newport Jazz Festival; February 9, 1964, when The Beatles first appeared on The Ed Sullivan Show; or July 25, 1965, when Dylan went electric at the Newport Folk Festival.
On that early summer Sunday in the first year of JFK's presidency, producer Orrin Keepnews set up an Ampex tape recorder on a table near the stage of the Greenwich Village basement known as the Village Vanguard. And over the course of five short sets that afternoon and evening, the Bill Evans Trio created musical magic of a sort rarely captured for posterity. The resulting records Keepnews released on his Riverside record label, Sunday at the Village Vanguard and Waltz for Debby, are universally regarded as the best of pianist Evans' career and perhaps the greatest live jazz records ever.
There have been numerous reissues of these classic sides, and most jazzers have at least one version of most of the takes laid down that day. But a new three-disc set, The Complete Village Vanguard Recordings, 1961, is arguably the best presentation yet, certainly the first to contain all of the music played that day, including the opening "Gloria's Step" that was interrupted by a brief power outage.
Listening to this music in glorious 20-bit remastering is mesmerizing, the interplay between Evans and his sidemen, bassist Scott LaFaro and drummer Paul Motian, transcendent. LaFaro was literally redefining the role of the bass in jazz, fully functioning as a soloist on a par with Evans, never boring or noodling, expanding the instrument's range with each inventive jaunt. Motian may be the forgotten man here, but his place as the glue that holds the threesome together is clearly evident.
And what can be said about Bill Evans that hasn't been already? The most lyrical of pianists, the introverted Evans brought a classical sensibility to his playing that was unique in jazz, in fact sometimes derided for its delicacy. Yet, on display here is the joy, harmonic complexity, rhythmic elasticity, improvisational impressionism and tectonic technique for which he is deservedly idolized.
One of the reasons this engagement has achieved near mythological status is that LaFaro died in an auto accident eleven days later at the age of 25. While Evans would continue to play in the trio format for most of the remainder of his career, he'd never again recreate the telepathic interaction he shared with the young bassist.
So, this is a five-star set by anyone's standards. It's the place to hear definitive versions of two of Evans' best known compositions, "Waltz for Debby" and "Detour Ahead," as well as LaFaro's "Jade Visions" and "Gloria's Step." There's Gershwin ("My Man's Gone Now"), Cole Porter ("All of You"), Leonard Bernstein ("Some Other Time") and a couple from the pen of Evans' former employer, Miles Davis ("Solar" and "Milestones"). Disney's "Alice in Wonderland" is an unusual choice, while "My Romance" and "My Foolish Heart" were staples in the pianist's repertoire right up until his death in 1980.
Bill Evans is one of the best documented jazz musicians of all time, with a slew of boxed sets available from various points throughout his career. This is the quintessential one.
copyright © 2005 Jim Newsom. All Rights Reserved.