It's hard to think of three trumpeters any more different from each other than Herb Alpert, Chet Baker and Dizzy Gillespie. Each had a unique style and sound, each was a major influence on the hornmen that followed, and each is featured in classy new releases on the Shout! Factory label.
The most financially successful of the three was Herb Alpert, who hit upon a formula in the early '60s that turned him into one of the biggest instrumental stars of the rock era fronting his Tijuana Brass. His most popular album was 1965's Whipped Cream and Other Delights, a disc that sat atop the LP charts for eight weeks late that year and early the next. While many of the songs are catchy and memorable, it's the album's cover that is probably best remembered---a naked young woman covered in whipped cream, tongue between her lips, sexily licking her finger.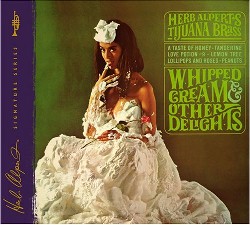 "A Taste of Honey" was the Top Ten single off Whipped Cream, and won three Grammies including Record of the Year. The theme was edibles with the songs having food-related titles, some like "Tangerine" and "Lemon Tree" already well known, but most new or unfamiliar. "Green Peppers" and "Bittersweet Samba" capture the bouncy, innocent optimism found on the sunny side of the mid-'60s, while "Love Potion #9" gets one of those va-va-voom stripper workouts. "Peanuts" is a polka, "Ladyfingers" is a ballad that recalls Alpert's first hit, "The Lonely Bull," and "El Garbanzo" gives the album a taste of the TJB's trademark faux-mariachi. The title track and "Lollipops and Roses" are etched into a generation's consciousness from their use on The Dating Game.
There are two bonus tracks on this reissue, and a frameable poster of the album's famous cover is included inside the CD's digipak along with a detailed 20-page booklet.
Chet Baker epitomized the West Coast Cool School of jazz. His golden boy good looks, understated trumpet style and quiet, emotion-free vocalizing made him a star of sorts in the '50s. But his was a tragic life, his natural musical gifts ultimately devoured by addiction to heroin, his self-centered, self-destructive narcissism amplified by his long running drug habit.
CAREER 1952-1988 is a double-disc set that spans his entire career, from "My Funny Valentine" with the Gerry Mulligan Quartet, the recording that first brought him notice in the jazz world, to a live recording of the same song made two weeks before his death 36 years later. Both sides of Baker's musical personality are spotlighted, with one disc devoted to his trumpet playing and the other featuring his work as a singer. It's the trumpet work that may have been overshadowed in the popular consciousness because of his uniquely chilly, unaffected singing. And it's the trumpet work that is most impressive here. Its intimacy and lyricism are compelling, and so different from the instrument's screamers and showboats.
That having been said, it's hard not to be drawn in by his vocal take on his signature "Let's Get Lost" from 1955. The purity of his soft voice is, like his trumpet playing, unlike any of his peers. He's more like a male June Christy than he is like any other guy singer.
There is definite deterioration on the latter tracks, especially noticeable vocally, but the emphasis here is on Baker's strengths and even at the end, there is beauty and fluidity in his trumpet lines. But the tracks from the '50s are nonpareil. CAREER is the best Chet Baker compilation I've seen.
Dizzy Gillespie played his horn and lived his life with a joyful abandon and soulful spirit that was the complete opposite of Chet Baker. Somehow he managed, perhaps through sheer joie de vivre, to avoid the drug and lifestyle traps that ruined or impaired so many other jazzmen. His two-disc CAREER 1937-1992 spans a longer time period and reveals a broader range than that of Baker---or just about anyone else, for that matter.
It's hard to contain Dizzy in just two CDs, so this one is hardly definitive, but it is highly instructive, totally entertaining, and serves two worthwhile purposes---as an introduction to a great musician, perhaps the greatest jazz trumpet man ever, and as a nice compact repository of some of his best work. The 1940s and '50s are especially well represented here, apropos considering he was in the middle of music history from the end of the big band era through the formative and peak years of bebop and into the Afro-Cuban explosion. Gillespie, in fact, was in the driver's seat of the developments of those two decades, and here he is heard beside other jazz giants like Charlie Parker, John Coltrane, Thelonious Monk, Charles Mingus and John Lewis.
Diz's big bands are presented alongside his various small-group incarnations, and seminal versions of most of his best known compositions are included---"Groovin' High," "Manteca," "Birk's Works," "Salt Peanuts," and "A Night in Tunisia" among them. The remastering is superb, the 48-page booklet fascinating, and the music incomparable.
copyright © 2005 Jim Newsom. All Rights Reserved.