---

PortFolio Weekly
December 9, 2003
Inside the Music
by Jim Newsom
BEN SIDRAN: A LIFE IN THE MUSIC
by Ben Sidran (Taylor)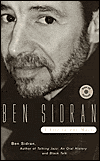 Ben Sidran is not a household name, yet his life in and around the music scene for the past forty years has been a fascinating journey. Playing rock and roll at the University of Wisconsin with Steve Miller and Boz Scaggs; studying in England and recording with legendary producer Glyn Johns at Olympic Studios; meeting and performing with jazz heroes like Art Blakey, Dizzy Gillespie, Phil Woods, Jon Hendricks, Mose Allison; writing books, hosting radio and television programs, making records. It's been a full life, and A Life in the Music is a thoroughly engrossing read by a multitalented and multifaceted artist.

I've been a fan of Sidran's since 1969, when I discovered his name among the credits on the Steve Miller Band's Brave New World album. He played keyboards and cowrote one of the best known tunes, "Space Cowboy," an all time Miller favorite. The two former college buddies would cross paths many times over the next 25 years.

But Sidran was too restless and inner directed to be tied down to just playing rock or cranking out hits. His master's thesis was published as the highly acclaimed Black Talk in 1971, about the time his first recording under his own name was released, Feel Your Groove. He went on to carve out a niche for himself in the jazz world with a distinctive songwriting and vocal style, never selling tons of records but always creating interesting, intelligent music.

His inside looks at the record industry, touring, the times through which he's lived and his commentary on the jazz life are well written, illuminating and to the point. For those unfamiliar with his music, a 12-song CD sampler is included.

________________________

ALL SHOOK UP
by Glenn C. Altschuler (Oxford)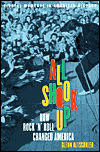 Here's a book I'd like to have had the opportunity to write. Subtitled "How Rock 'n' Roll Changed America," it's part of the Oxford University Press' "Pivotal Moments in American History" series. It's an easy read, but full of interesting information and a few factual errors. Although the author was born in 1950, I gather he was not as caught up in rock and roll as some of us were.
Nonetheless, this is worth your while, particularly if you lived through it. Beginning with a look at pop music and American culture in the decade preceding Blackboard Jungle in 1955, it effectively documents some of the precursors and roots of the explosion that was about to erupt, then details the seismic cultural shifts left in its wake. From Chuck Berry and Jerry Lee Lewis to Pat Boone, Dick Clark, and of course Elvis, Altschuler looks at the pivotal figures in the early days of the music. There's Ricky Nelson, Buddy Holly, Ray Charles, Berry Gordy's nascent days with Motown, culminating with the Beatles' arrival and, in an epilogue titled "The Persistent Power of Rock 'n' Roll," Bruce Springsteen.
Most importantly, the book tackles rock music's impact on society and vice-versa. The chapter titles tell the story: "Rock 'n' Roll and Race," "Rock 'n' Roll and Sexuality," "Rock 'n' Roll and Generational Conflict," "Rock 'n' Roll and the Pop Culture Wars." This is not the definitive work on the early days of rock 'n' roll, but it's a valuable contribution in the documentation of our shared history in the last half of the twentieth century.
copyright © 2003 Port Folio Weekly. Used by Permission.
---