---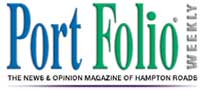 March 4, 2003
The Jazz Scene: Decisions, Decisions
by Jim Newsom
Norfolk native and Virginia Beach resident Tommy Gwaltney passed away last month, three weeks shy of his eighty-second birthday. Known in the jazz world for his Dixieland clarinet, he also made his mark as founder of Georgetown's Blues Alley in 1965, still a major stop on the national jazz club circuit. His funeral on Valentine's Day included a musical tribute by friends including Pat Curtis, Tommy Newsom, Ron Hallman and Tom Jeffreys.
Two Virginia drummers are storming up the national jazz radio airplay charts. Our own Jae Sinnett's Confluence, reviewed in these pages in December, hit #21 on the JazzWeek chart in its second week in national release. Charlottesville's Robert Jospe, who brings his group Inner Rhythm to Hampton Roads two or three times a year, held down the number 7 spot with his excellent new release, Time to Play, in its third week on the chart. Look for a review of Jospe's disc in Port Folio Weekly later this month.
It seems like good things often come in clusters, and that's just what's happening the first weekend in May. The Ella Fitzgerald Music Festival lights up the campus of Christopher Newport University that weekend, with three straight nights of legendary jazz performers appearing in concert in the campus' intimate Gaines Theatre. On Thursday, May 1st, vocalist Dianne Reeves holds sway. The next night, saxophone colossus Sonny Rollins brings his titanic tenor to town. Finally, on Saturday night, May 3rd, pianist Chick Corea hits the stage with his "New Trio." It's an amazing three night run for jazz lovers.
And it's even more amazing because on that same Saturday night, May 3rd, Herbie Hancock will appear in Chrysler Hall with the Virginia Symphony to present the world premiere of a program based on his 1998 release, Gershwin's World. Hancock's concert is a centerpiece of this year's Virginia Arts Festival, an umbrella under which CNU also presents its festival. So, one might ask, why do we have two of the greatest jazz pianists of all time performing in our area on the same night?
Apparently the Fitzgerald Fest is booked and presented by the University and the city of Newport News, without consulting the grand poobahs of the Arts Festival. Consequently, there is no real coordination of events. Therefore, we Hampton Roads jazziacs will have to make a difficult decision on May 3rd---Chick or Herbie? Wish I could be in two places at once…(when I'm not anywhere at all!)
Don't miss jazz vocalist Rene Marie at Chrysler Hall on March 15th as part of the Symphony's Pops series. Ms. Marie, whose regular band includes ODU professor and jazz master John Toomey on piano, has created quite a buzz on the national jazz scene over the last two years. She'll be singing the songs of Duke Ellington in a program with the Great American Music Ensemble.
On the local club scene, Granby Street's Blues Alley has a full lineup of regional favorites this month:
March 7 & 8 - Eddie Williams Trio
March 14 & 15 - Russell Scarborough/Blake Wallace Quartet
March 21 & 22 - Jim Newsom Quartet
March 28 & 29 - Mike Durig Quartet
If your tastes run more towards the smooth side of jazz, stop by Alice Mae's Soul Food Restaurant on Bank Street in downtown Norfolk. The Fuzz Band holds down a regular Friday night slot, with a shifting Saturday lineup including:
March 8 - The Fuzz Band
March 15- The Good Life
March 22 - Against All Odds
March 29 - Dreams
Against All Odds' leader, saxophonist Charles Peterson, is among the artists slated for the Chrysler Museum's Wednesday Night Jazz series this month. The museum's spacious Huber Court is a wonderful place to hear great music in the middle of the week. Here's the lineup for March:
March 5 - Reggie Gist
March 12 - Jimmy Masters & Liz Barnes
March 19 - Charles Peterson
March 26 - Jim Newsom Quartet

Speaking of Jimmy Masters, the acoustic bassman has been living up to Tony Williams' definition of a "good musician" lately. Williams, who made his mark as drummer for Miles Davis in the '60s, once said that a good musician was one who could play jazz one night, rock the next, country the next and sit in with the Symphony on Sunday.
Jimmy has been doing just that, playing jazz both as leader and sideman, and accompanying folk duo Bill and Pam Gurley on a number of dates across the state. He's also working from time to time with guitar wizard Stephen Bennett. When he sets up at the Chrysler with Ms. Barnes on piano, it's worth much more than the price of admission (which is free on Wednesdays).
Finally, as you make your plans for the summer, be sure to schedule yourself in town for the week of August 10-16. That's when this year's Jazz Norfolk celebration takes place.
copyright © 2003 Port Folio Weekly. Used by Permission.
---