---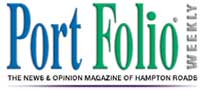 January 28, 2003
The Jazz Scene: Hang Time
by Jim Newsom
Many Hampton Roads jazz fans were disappointed when trumpeter Jon Faddis canceled his Jazz on Granby performance scheduled for Friday night, January 17th at the Roper. Sadly, Faddis' father passed away earlier in the week, and Jon, who was very close with his dad, headed out to the west coast to take care of the arrangements. Promoter Blake Cullen plans to invite him back during the 2003-2004 season. In the meantime, those in need of a Faddis fix can enjoy his Dizzy Gillespie Alumni All Star Big Band's 2002 release, Things to Come (see review this issue).
A trumpeter who did make it to our area not too long ago is Irvin Mayfield. Mayfield played at Town Point Park in August during Jazz Norfolk with Los Hombres Calientes, the Afro-Caribbean group he co-leads with Bill Summers. Mayfield has a brand new recording out on Basin Street Records, Half Past Autumn Suite. It's a tribute to the visual artistry of photographer/filmmaker Gordon Parks that was commissioned by the New Orleans Museum of Art.
Half Past Autumn Suite is one of the best new CDs of this young year, rich in rhythmic and tonal diversity, and spotlighting the exceptional playing and writing of the 25-year old Mayfield. The textures he has created matching his trumpet with saxophones, trombone and acoustic piano are gorgeous. Gordon Parks himself sits in at the piano for one track and Mayfield's fellow N'Orleans native Wynton Marsalis adds his trumpet to "Blue Dawn," but it's the leader and his ensemble writing that make this a disc to own. As an enhanced CD, it also includes behind-the-scenes video footage for viewing on your computer.
One of my favorite CD discoveries of the last six months is Hang Time, by the Eddie Williams Quartet. I've enjoyed Eddie's saxophonistry in various live settings around the area for many years, especially his work with vocalist Laura Martier and pianist John Toomey. However, his trio gigs in the Bienville Grill days left me a little flat, as his lengthy solo explorations were too much Chasin' the Trane and not enough contextual variety for my taste.
However, on Hang Time, Williams has composed an articulate and memorable batch of melodies, with contemporary frameworks for creative spontaneity. He and Toomey sound positively inspired on these sessions, weaving hypnotic spells in tandem with bassist Chris Brydge and drummer Rich Mossman. Much of the disc recalls the acoustic side of the Yellowjackets, and the solos are tasteful and musical with few wasted notes.
Brydge and Mossman will join Williams for a weekend visit to Norfolk's Blues Alley on February 7th and 8th. Selected by Port Folio Weekly readers as the "Best Place to Hear Live Jazz," Blues Alley has a strong schedule in place for the next month:
Jan 31 - Birdland Express
Feb 1 - Russell Scarborough/Blake Wallace Quartet
Feb 7 & 8 - Eddie Williams Trio
Feb 14 - Steve Nygaard Quartet w/vocalist Clair Gucchiari-Loring
Feb 15 - Jim Newsom Quartet
Feb 21 - Jim Newsom Quartet
Feb 22 - Birdland Express
Feb 28 - Barbara Martin & Mac Walter
Mar 1 - Steve Nygaard Quartet
The best place to hear live jazz in the middle of the week is the Chrysler Museum of Art. Every Wednesday night, the Museum's Huber Court fills with the sounds of jazz, and admission is free. Cuisine & Company provides beverages and cheese trays, with the promise of an expanded food menu on the horizon. It's a great, smoke-free listening environment, with first class musicians on tap each week:
Jan 29 - Charles Darden
Feb 5 - Vinnie Knight
Feb 12 - Reginald Gist
Feb 19 - Jim Newsom
Feb 26 - Charles Peterson
The newest jazz listening room in the area is Alice Mae's Soul Food Restaurant, located at 112 Bank Street in downtown Norfolk. Owner Terry Webb and operations manager Kim Greene are mixing down-home cooking with a weekend menu of jazz and blues.
Also, guitarist Woody Beckner holds sway most Fridays at Kincaid's in MacArthur Center and on Saturday nights at Brutti's in downtown Portsmouth. While the musical atmosphere at these two venues is more background than listening room, Woody is one of the best six-string craftsmen around, and his oft-time coleader Liz Barnes is a talented pianist.
copyright © 2003 Port Folio Weekly. Used by Permission.
---