---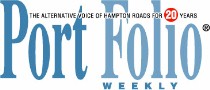 PortFolio Weekly
July 6, 2004
Jazz is Back on Granby
by Jim Newsom

When the sports pages trumpeted Blake Cullen's return to hockey as part of the new Admirals ownership, I wondered if that meant there'd be no Jazz on Granby series this year. Not to worry. Blake had already lined up a full season of concerts at the Roper Performing Arts Center before assuming his duties in the hockey team's front office.

The series kicks off on October 22nd with Mark Murphy returning to town to sing the Duke Ellington Songbook. Murphy was the very first Jazz on Granby artist and this time he'll be focusing his unique style on the great music of Ellington and Billy Strayhorn, with the assistance of University of Maryland alum Michelle Walker, a vocalist who's been making a name for herself on the D.C. jazz scene. They'll be accompanied by the John Toomey Trio.

On November 26th, two of the biggest names in jazz team up for a special tribute to guitar innovator Wes Montgomery. Organist Jimmy Smith, who recorded with a Montgomery on a couple of his best albums, joins guitarist Larry Coryell for this concert. Smith is the guy on Hammond B-3 organ, and Coryell has been one of the most versatile and inventive players over the last 35 years. This promises to be a night of musical fireworks.

Clarinetist Ken Peplowski headlines an all-star re-creation of Benny Goodman's legendary 1938 Carnegie Hall concert on January 28th. Peplowski has been hailed for years as Goodman's heir, and the original concert took jazz to a new level of legitimacy and acceptance. Expect a night of big band swing and joyful improvisation.

People are still talking about Freddy Cole's appearance here two years ago as part of this series. The smooth voiced brother of Nat King Cole can make any song sound romantic, and that's the theme of his Valentine's weekend show on February 11th, "Romantic Jazz."

Speaking of great singers, the late Johnny Hartman was one of the finest, though he never reached the level of popularity he deserved. His best known album was the one he did with sax giant John Coltrane in 1963. For the final Jazz on Granby show of the year, vocalist Frank D'Rone, a fellow Chicagoan who knew Hartman well, will join saxophonist David "Fathead" Newman for a show called "Remembering Johnny Hartman" on March 4th.

Season tickets are available for $80.00 each by calling 623-4141, or by e-mailing Blake Cullen at admmgt@aol.com. Individual concert tickets will be available in September.

- - - - - - - -

The local jazz scene continues apace as the summer heats up. The Art of Jazz continues every Wednesday night at the Chrysler Museum with Salsa Y Mas this week, vocalist Charles Darden next, saxophonist Reggie Gist on the 21st and the Jim Newsom Quartet on July 28th.

Brutti's in Olde Towne Portsmouth offers up jazz on the weekends, with pianist Michael Sorg and percussionist Leon Alexander each Friday evening and guitarist Woody Beckner on Saturdays. Jimmy Masters joins Woody on the 10th and 24th.

On July 26th, Brutti's hosts the TodiJazz piece of this year's Todi Music Festival. Charlottesville vocalist Stephanie Nakasian will be in for two sets with pianist Hod O'Brien's trio, including Masters on the bass.

Jimmy and Woody are traveling down to Duck on the Outer Banks every Thursday this month to play with singer Laura Martier and her husband, drummer Dan Martier, on the deck at the Roadside. Jimmy's also going up to D.C. on the 13th to accompany Diane Hubka at Blues Alley.

Sterling's on Granby Street continues its popular Jazz Brunch every Sunday from 11:00 to 2:00. This Sunday, Emily Schelemski works her vocal magic on the standard repertoire, and I'll be in for the next two weeks after that. David Hufstedler joins me on the 18th, and acoustic bassist Mike Faircloth sits in with Ron Hallman and me on the 25th.

New York based salsa kings Los Calientes headline Port Warwick's summer concert series in Newport News next Wednesday, July 14th. Mike Jacobs brings his quintet in this week, Charles Darden has a quartet with him on the 21st, and Bill Brown leads his group there on the 28th. Guitarist Nick Kepics plays at Sidney Meers' Cowboy Sid's in Port Warwick on July 10th.

Against All Odds always has a busy schedule, and this month is no exception. They'll be at the Alley in Newport News on the 21st, and at Hampton's Mill Point Park two Fridays in a row, the 23rd and 30th. They'll also man the center stage of Waterside on Saturday, the 31st.

Charles Darden is playing in Merchant's Square in Williamsburg on the 22nd as part of the Summer Breeze series there, and the Jim Newsom Quartet provides the jazz for the D'Art Center's annual summer wine & jazz to-do on Friday night, July 9th.

On the Festevents calendar, this year's Norfolk Jazz Festival set for July 16-17 does its best to emulate the recently completed Hampton Jazz Festival with a lineup of smooth jazz, new age and R&B stars including Pieces of a Dream, Boney James, Chuck Mangione, Angela Bofill and Keiko Matsui. And though it's not jazz, it's worth noting that Ricky Skaggs headlines Bluegrass in the Park on July 30th in Town Point Park.

copyright © 2004 Port Folio Weekly. Used by Permission.
---