---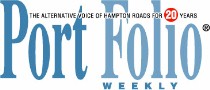 PortFolio Weekly
March 2, 2004
jazzscene: Scarborough Fare
by Jim Newsom
Drummer Russell Scarborough has been a mainstay of the Hampton Roads jazz scene for 30 years. His current working trio, including inventive electric bassist Dave Hufstedler and primo pianoman Tim McDonald, is packing the house Sunday nights at Central 111 in Virginia Beach.
On his latest recording, Russell Scarborough Presents…Tim McDonald, Scarborough shares top billing with his pianist. McDonald, who is posted to the area with the U. S. Army as an instructor at the Armed Forces School of Music, is a multi-talented, multi-genre musician, equally at home playing country or rock as he is improvising in a jazz context.
This CD highlights his superb technique but is not without its missteps. The inclusion of Beethoven's overdone "Fur Elise" as the opening track casts the shadow of "novelty record" across the disc. With "Three Blind Mice" slotted as the next-to-last track, one might initially wonder about the seriousness of this undertaking.
McDonald tackles the Beethoven piece the way Dave Brubeck would, with choppy block chords and ever-expanding variations on the well-worn theme. When the trio plays this live, it never fails to generate huge applause. But it's still gimmicky, and doesn't wear well on repeated listenings.
The group's chase of "Three Blind Mice" is more interesting, but still kinda silly. The pianist sets up the piece with an elegant rendering of the melody complete with scampering critters that kicks into a four bar dose of Eddie Palmieri before settling into a Vince Guaraldi Charlie Brown groove. His solo quotes "La Bamba" and "Tequila" before returning to the head. It's fun, and is another number that wows live audiences.
There are three McDonald originals---the bottom heavy Crescent City strut of "Ragin Cajun;" the beautiful "Waltz For Frank" with its unaccompanied piano intro leading into an attractive Bill Evans-ish mix of luscious chords and single note lines; and the set closing "Aargh, Mr. Scarborough," a jauntily delicious melody strung atop the bandleader's brushwork and Hufstedler's walking bass. Very nice.
The bassist's "Contemplation" is another attractive melody upon which McDonald works his magic, while Michael Durig's "Gypsy Queen" gives the group a chance to swing while the pianist puts his phenomenal chops on display. The Blake Wallace-penned "Pollo Grande," one of the core components of Scarborough's book for many years, gets a new lease on life with a high-powered take that builds in complexity to an explosive climax.
The questionable choice of "Fur Elise" aside, this is a fine album by a talented trio of Hampton Roads jazzmen. The lower end of the mix suffers from too much boxiness due to its being recorded in Russell's living room, but Tim McDonald's virtuoso performance is something to hear.
- - -
Drummer and jazz radio personality Jae Sinnett has some traveling on his schedule in March. This Friday he goes across the Chesapeake Bay Bridge-Tunnel to put on a drum clinic and rhythm workshop at the refurbished Palace Theatre in Cape Charles. Next week he'll be at the Wyndham Airport Hotel in Richmond for a performance with his trio on Tuesday, then catch a plane to Nashville where he's teaching a master class and drum clinic at Fisk University on Thursday the 11th. On Saturday, March 20th, he returns to the Eastern Shore for a concert with his trio at the Palace Theatre.
Tim McDonald is also heading out of town at the end of the month to host the Cameron University Jazz Festival in Lawton, Oklahoma. It'll be a homecoming of sorts, as Tim played with the CU Jazz Ensemble when he was stationed at Ft. Sill seven years ago. Bassist Terry Burrell and drummer Leon Alexander are joining him on the trip.
In addition to his regular gigs at Kincaid's every Friday evening and Brutti's on Saturdays, guitarist Woody Beckner has a faculty recital coming up at Christopher Newport University on Thursday, March 11th. Three of Woody's regular playmates will join him for this free concert at the Gaines Theatre---saxophonist Jeff Smith, bassist Jimmy Masters and drummer Howard Curtis.
Besides working with Beckner on the 11th and on his weekend gigs the 6th-7th and 19th-20th, Jimmy Masters brings jazz to Great Bridge on Thursday, March 25th, playing at Locks Pointe Restaurant on Battlefield Boulevard that evening with guitarist Geordie Kelly. He'll also lead his own trio at the Chrysler Museum on March 24th.
The Chrysler continues its full schedule of jazz on Wednesdays this month. Singer Charles Darden kicks things off this week, followed by female vocalist Vinnie Knight on the 10th. Grace Street is there on the 17th, Jimmy's trio the 24th, and the Jim Newsom Quartet wraps up the month's lineup on the 31st. The music starts in the museum's spacious Huber Court at 6:15 and runs until 8:45. Admission is free, but a voluntary donation is gladly accepted at the door.
On the airwaves, Jae Sinnett is the man for jazz on WHRV-FM. Port Folio Weekly editor Tom Robotham and I will join Jae this Sunday for the last hour of his weekly program, Sinnett in Session, a show that airs from noon to 5:00 pm. We'll be dropping by at 4:00 to talk jazz, share some recommendations and play a few favorites.
copyright © 2004 Port Folio Weekly. Used by Permission.
---