---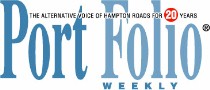 PortFolio Weekly
September 7, 2004
Fall Arts Preview: Jazz
by Jim Newsom
It's standard operating procedure to bemoan the lack of opportunities to hear jazz on a regular basis in our region. But we are not unique in this. Most of the country outside of New York, Chicago and San Francisco is jazz-starved. Fortunately, the coming fall season offers several opportunities to hear first class, world renowned jazz performers in action right here in Norfolk.
Perhaps the most exciting concert on the near-term horizon is the Hope House Foundation's "Jazz For Hope" concert on Wednesday, October 13, starring the Yellowjackets. This should be a night to remember for a couple of reasons.
First, the Yellowjackets are unquestionably the finest working jazz band of the last twenty years. The group's recorded output has been consistently strong, with nary a miss in their long discography. As a live unit, the quartet is unrivaled for the individual virtuosity of the bandmembers and the remarkable interplay among them. In addition, the band possesses three superb composers whose original works stand out for their originality, intricacy and accessibility.
The second reason that this is a night not to be missed is the venue. The October show will be the first concert presented in the refurbished Granby Theatre. Bobby Wright, Craig Dean and Jim Manning have had their crews hard at work for months turning this historic building at 421 Granby Street into a showplace nonpareil, restoring and renovating this grand dame of downtown Norfolk.
Prior to the Yellowjackets concert, the best jazz bet is a Virginia Symphony Pops performance at Chrysler Hall on September 18. On that night, guitarist/vocalist John Pizzarelli and his trio join the Symphony for a tribute to songwriter Harold Arlen. Arlen's compositions include "Over the Rainbow," "It's Only a Paper Moon," "Stormy Weather," "I've Got the World on a String," and hundreds more.
Pizzarelli has been one of the most successful jazz performers of recent years, with his most recent album, Bossa Nova, perhaps his best yet. The son of jazz guitar legend Bucky Pizzarelli, John follows in the footsteps of Nat King Cole and George Benson as a gifted instrumentalist who can also sing.
Kevin Mahogany is coming to town for a residency at Old Dominion University in November, wrapping up with a performance in the University's Chandler Recital Hall on November 8. Mahogany is a big man, musically and literally, and his baritone voice conveys more soulful feeling and emotion than any other male singer of his generation. He is equally at home with the standard repertoire and with more contemporary songs by Van Morrison, James Taylor and Lyle Lovett. His 2002 CD, Pride and Joy, successfully put the Motown songbook into a jazz setting.
Later that same week, saxophonist Steve Wilson brings his group to his hometown for a show at the American Theatre in Phoebus on November 13. A graduate of Phoebus High School, Wilson is one of the bright young lights on the jazz scene, having spent three years playing with Chick Corea, placing high in jazz polls, and releasing several highly regarded CDs as a leader. His most recent, Soulful Song, was a tribute to the '70s soul music he cut his teeth on. He was at ODU last spring for a week, performing with John Toomey's trio, but this time out he'll have his own band with him for what promises to be a triumphant homecoming.
This season's Jazz on Granby series kicks off October 22 at the Roper Performing Arts Center with a return performance by vocalist Mark Murphy. This time he'll draw his setlist from the Duke Ellington songbook, with up-and-coming DC-based vocalist Michelle Walker joining in to replicate Ella Fitzgerald's classic work with Duke. Rather than conjuring up the big band ambience most frequently associated with Ellington, this night at the Roper will be more intimate, with pianist Toomey and his trio providing the accompaniment to Murphy's distinctive style.
On the night after Thanksgiving, November 26, things are going to get very hot on the Roper stage. That evening, Jazz on Granby features two true jazz legends, guitarist Larry Coryell and organmaster Jimmy Smith. The ostensible reason for this pairing is a tribute to the late guitar innovator Wes Montgomery, but this matchup would be noteworthy even without that connection.
Smith almost singlehandedly validated the Hammond B-3 organ as a legitimate lead instrument in jazz. For fifty years, he has set the pace in defining what an organist should and could do in a jazz setting. Among his most noteworthy recordings are outings with Montgomery himself.
Coryell may be best known as one of the pioneers of the jazz-rock hybrid known as fusion, but over the last twenty-five years he has placed himself into a variety of settings, from pure acoustic to borderline smooth jazz to straightahead hard bop and back to modernized fusion. His most recent CD, Tricycles, shows he is still in top form. This is another of those shows you definitely don't want to miss.
Jazz on Granby continues into the new year with clarinetist Ken Peplowski fronting an all-star big band on January 28 in a re-creation of Benny Goodman's classic 1938 concert at Carnegie Hall. This was the show that brought jazz out of the backrooms and ballrooms and into the concert hall, and there's no one I can think of who can represent Benny Goodman better than Peplowski.
For Valentine's Day, JOG impresario Blake Cullen brings Freddy Cole back for an evening of romantic jazz on February 11. Cole, who is Nat King Cole's younger brother, has a voice that is smooth and sweet. His 2002 appearance here was one of the best Jazz on Granby shows yet.
The series wraps up on March 4 with an unusual pairing that has a great title: "Remembering Johnny Hartman." Texas-born saxophonist and former Ray Charles sideman David "Fathead" Newman will be joined by Chicago-based singer Frank D'Rone in this tribute to vocalist Hartman and, in particular, the incomparable album he did in 1963 with John Coltrane. Newman is thought of more as an R&B-based hornman than as a Trane disciple, and D'Rone is more in the lounge singing style of 1950's Tony Bennett than in the sexy-smooth Hartman mode, so this is a show that is difficult to predict in advance.
Other events of note to jazz fans include Bruce Hornsby's October 15 date at the Harbor Center Pavilion in Portsmouth. Though he would never call himself a jazz pianist, Hornsby's improvisational skills, jazz influences and creative sensibilities make him especially appealing to jazz lovers.
Jae Sinnett augments his trio Sunday night at the Williamsburg Regional Library with Charlottesville-based trumpeter John D'Earth. The library has a nice intimate theatre, and D'Earth's hornlines should add a nice touch of spice to Sinnett's regular group.
If you don't mind traveling up the road a bit, the Manhattan Transfer is coming to Richmond's Carpenter Center on November 15. Their newest recording, Vibrate, is set for release at the end of this month, and it's a keeper.
And don't forget to support your local musicians. Jazz can be found on Wednesday nights at the Chrysler Museum, weekend nights at Brutti's in Olde Towne Portsmouth, and on Sundays at Sterling's jazz brunch on Granby Street. There'll also be jazz at Hampton's Bay Days this weekend, the Chesapeake Fine Arts & Crafts Festival the next weekend, and the fall Stockley Gardens Arts Festival in mid-October.
copyright © 2004 Port Folio Weekly. Used by Permission.
---