---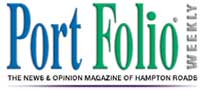 PortFolio Weekly
May 13, 2003
In the Swing of Things
by Jim Newsom
Woody Herman formed his first Herd in 1936, at the age of 23. Three years later his signature tune, "Woodchopper's Ball," became a huge hit and launched the clarinet and sax man's career as a bandleader, a career that would last until his death in 1987. In fact, Herman kept a traveling, working jazz-propelled big band together longer than anyone from the swing era, outliving and outlasting even Count Basie and Duke Ellington.
The Woody Herman legacy lives today, carried forth by longtime bandmember Frank Tiberi. Tiberi joined the band in 1969, and was handpicked by Herman to lead the orchestra after he died. The current edition of the Thundering Herd stampedes into Portsmouth's Willett Hall Thursday night as part of the Virginia Arts Festival, under Tiberi's baton. The concert starts at 7:30 pm, with tickets priced at $20.00 and $25.00.
The Woody Herman Orchestra comes to town carrying the weight of a lofty history. The First Herd lasted until 1946, moving from a ballad band at its inception to a swinging ensemble that was known as "the band that plays the blues." Classic arrangements of tunes like "Apple Honey," "Caldonia" and "Northwest Passage" were written by legends-in-the-making Ralph Burns and Neal Hefti. Classical composer Igor Stravinsky even wrote his jazz-inflected Ebony Concerto for the orchestra. Tenor saxophonist Flip Phillips, trombonist Bill Harris and trumpeters Pete and Conte Candoli sailed across the smoking rhythms of this group that many considered to be the most exciting big band of the time.
The Second Herd of the late '40s featured tenor saxophonists Stan Getz and Zoot Sims, with jazzmasters like Gene Ammons, Terry Gibbs, Oscar Pettiford and Shelly Manne passing through the ranks during its three year ride. The Third Herd lasted from 1950-56, keeping the swinging spirit alive during a period that saw most big bands fade completely off the scene.
Woody Herman kept various versions of the "New Thundering Herd" together through the next couple of decades, incorporating rock elements in the late '60s and '70s before returning to a more straightahead jazz sound by 1980. In the '80s, tax problems kept him on the road even as failing health began to take its toll.
Frank Tiberi has been at the helm since 1987, and the band's concerts have received rave reviews in recent years. The classic arrangements and well-remembered songs are still in the repertoire, with Tiberi himself taking the clarinet solos that Herman essayed during his lifetime. The musicians may not have been around for the band's heyday (the current band's average age is less than 30), but the thunder is still there and the goodtime swing of yesteryear remains fresh and exciting.
copyright © 2003 Port Folio Weekly. Used by Permission.
---