---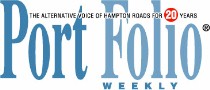 PortFolio Weekly
February 24, 2004
Straight Talk
by Jim Newsom
The irony was delicious. Last Wednesday, the very day that our local newspaper reprinted former Governor Jim Gilmore's Washington Post diatribe against the efforts of his successor "and his high-tax allies" to cope with the fiscal mess he left them, that successor, current Governor Mark Warner, came to Norfolk to pitch his proposed solution to a crowd of 160 business and civic leaders, college administrators, professors and students at the Roper Performing Arts Center.
I couldn't resist asking Warner if he had any response to his predecessor's column. His answer was oh-so-diplomatic, visibly biting his tongue and keeping to his message that dealing with the state's budgetary crisis "is beyond Democrat and Republican."
"I think people are tired of politicians trying to poke each other in the eye," he explained during the Q&A session that followed his formal presentation. And he expressed cautious optimism that the previously intransigent House of Delegates was beginning to recognize the need to move beyond "no tax" sloganeering and address the money crunch, giving them credit for "a first step, a recognition of the need for more revenues."
The contrast between the two governors has rarely been presented so clearly as by this serendipitous confluence of events: The bomb-throwing former chief executive, who rode into office on a bogus free-lunch promise to eliminate the "car tax" with no diminishment of services, now using his platform to denigrate the current governor whose careful, business-like approach to solving the problems he inherited has placed him in the unenviable position of making tough choices and telling people things they don't want to hear.
Gilmore's written rant quoted Mark Twain: "If you tell the truth, you don't have to remember anything." Warner stood before his relatively well-informed audience and told them the truth: "They bet your future that kind of extraordinary times were gonna last forever. Now we have to deal with reality."
This audience was ready for reality. There were no silly calls to "cut the fat," no attempts to place the burden elsewhere. This audience listened to what the Governor had to say and engaged in intelligent dialogue with him afterwards.
Laying out his vision for a fairer tax system by noting that under the current tax code, "if you make $17,000 a year with two children, you pay the same tax rates as someone who makes a million," he presented a plan that attempts to keep Virginia from slipping further by raising an additional $500 million per year over the coming biennium. In so doing he admitted that the state senate's proposal, developed by Fredericksburg Republican John Chichester, would generate three-to-four times as much additional revenue as his own.
"It's a gutsy plan," he said of Chichester's alternative. "But he knows it won't pass intact."
The Governor believes his plan has a chance of passage, but he also knows how difficult it is in these times to "do what's right for the good of all." ("I've still got scars from fighting for transportation a couple of years ago.")
Calling on his listeners to contact their legislators "if it makes sense to you," Mark Warner passionately and forcefully detailed his proposals. It was as much straight-talking leadership as I've seen from a Virginia governor in a long time.
copyright © 2004 Port Folio Weekly. Used by Permission.
---