---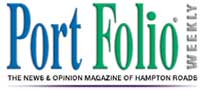 PortFolio Weekly
August 26, 2003
In The Folk Tradition Turns 25
by Jim Newsom
Barry Graham is passionate about public broadcasting and its potential to elevate the arts in the area it serves:
"I have always held the philosophy that public radio should really be a reflection of what's going on inside the local community."
So when Betty Luse, the grand poobah of radio programming at WHRV/WHRO-FM, approached him about becoming folk producer for the local National Public Radio affiliate in January, 2002, he saw the offer as an opportunity to put his philosophy and vision into practice.
"There was only one hour of local music," he told me last week, "and I said there's a lot of great local music here. I told Betty I would do this so long as we could keep a local tilt to it. I want to bring people in, do live concerts and push what's going on locally."
Graham began with a two-hour program on Sunday nights called Off the Shelf, focusing on acoustic singers and songwriters who were building on the traditions of American folk music.
"We started this show with twelve CDs that were out of my own library," he laughs. "The reaction we had to Off the Shef' was so great. And then there became this renewed interest in traditional Americana, bluegrass."
As a result, he added another hour to his Sunday night shift, calling it Pickin' on WHRV, devoted to the high whining vocals, mesmerizing mandolins, furious fiddles and fleet-fingered flat-pickin' guitars of bluegrass. This three hour block of programming now fills the Sunday night schedule on WHRV-FM, from 8:00-11:00 pm.
But the hour before Graham takes the board is reserved for the person who originated folk music programming on the local airwaves, Bob Zentz, with his show, In the Folk Tradition. Zentz is an internationally known musician himself, who can play a boatload of instruments from guitar and banjo to concertina and hammered dulcimer. He was a headlining performer at the Tall Ships Festival in Bay City, Michigan last weekend.
"Let's face it," Graham says. "Bob has forgotten more elements of folk music than I know."
Zentz started In the Folk Tradition in 1977, back when there was only one radio station in the WHRO complex. Through the years he has featured a variety of traditional, old-time, and new acoustic artists on his program. Be it sea chanteys, Irish penny whistles, Scottish bagpipes, or Celtic fusion, he's turned a lot of listeners on to some wonderful music they might not otherwise have been exposed to.
This Tuesday, WHRV-FM pays tribute to the past, present and future of folk music on the station with a multi-media celebration at the Naro Cinema in conjunction with In the Folk Tradition's 25th anniversary (although my math shows 2003 minus 1977 to be 26). The show, which will be emceed by Graham, is built around a screening of A Mighty Wind, the affectionate film satire about the early '60s heyday of folk music and an on-the-mark public broadcasting reunion that came out this spring. The opening acts for the movie are Zentz and three other regional folk artists, Ken Hicks, Amy Ferebee and Molasses Creek.
Hicks was named "Funniest Person in Virginia" in the late 1980s, and his musical trademark is mixing good-natured humor into his folk songs. Ferebee has been on the local acoustic music scene nearly as long as Zentz and Hicks. She's an accomplished fingerpicking guitarist and vocalist whose repertoire runs the gamut from blues and jazz to traditional songs and "newgrass."
Molasses Creek is a trio from Ocracoke Island that bills itself as a "high energy folk-fusion band." They weave a harmonious vocal blend atop guitar/fiddle/bass instrumentation. Three years ago, the group won First Runner-Up in the "Talent From Towns Under 2000" competition on NPR's Prairie Home Companion.
Barry Graham himself is about to mark his 20th anniversary with WHRO and WHRV, hosting both jazz and folk programs in the evenings and on weekends while teaching U. S. Government to high school seniors during the day. I asked him what role he hoped the stations would play in the local music scene in the coming years.
"What I see us doing is becoming more involved in promoting events," he replies. "I can foresee, in the future, a folk festival that WHRV is an active participant in planning and promoting. Live concerts on the air---I already did one singer/songwriter night back in January that went over very well. That's going to be an annual event, if not more than annual.
"I really see the radio station being more of an avenue for educating people about traditional American music. You know, workshops and things like that. I'm working with Harold Smith and East Virginia right now trying to plan a workshop kind of like what Jae [Sinnett] does with his jazz. We'll be doing it with bluegrass and traditional music."
He describes the Tuesday show at the Naro as both a summing up of what has been and a launching pad for things to come.
"It's really a celebration of the fact that local folk music has been on the air for 25 years. In the Folk Tradition is one of the longest running radio programs in Virginia. And it's a celebration that local music is alive and well on the radio."
copyright © 2003 Port Folio Weekly. Used by Permission.
---