---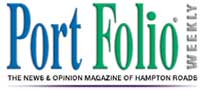 PortFolio Weekly
June 24, 2003
Starting Small in the Record Biz
by Jim Newsom
Jack Frieden loves music, especially jazz singers and pop music with vocal harmonies. He's turned that love into a long running radio show on WHRV-FM, The Vocal Sound of Jazz, now in its 24th year on the air. Three years ago, he and jazz bassist Jimmy Masters went a step further, forming VSOJAZ Records.
"When I got out of college, my ambition was to be in the record business," Frieden says. "I just wasn't ready to move to New York or Los Angeles. I actually lived up in D.C. I had some interviews and I realized it wasn't a business that would have made me happy as a full-time profession."
Instead, he returned to Hampton Roads to help manage his family's insurance agency. But his love of music never went away. And those youthful dreams of the recording industry never completely went away either.
"As the technology changed and the internet became prominent, I realized that the dollar-and-cent barriers to entering the record business became much less, and that you could be a small record company, not invest your life savings doing it, and have a reasonable chance of at least getting your money back."
Thus, the VSOJAZ label was born. The first project was Frieden's idea, to put some of the best songs of the rock era into a jazz setting. He and Masters matched Outer Banks-based vocalist Laura Martier with John Toomey arrangements, and Intersection was born. Released in August, 2001, it's a great recording, with versions of the Guess Who's "Undun" and David Crosby's "Guinnevere" particularly potent.
The company's second release, You Inspire Me, came about differently.
"Diane Hubka approached us," Frieden explains. "I had played her albums on my show. One day I got an e-mail from her. She had already produced the record. What we did was make a couple of suggestions on the ordering of the songs, wrote the liner notes, and did a licensing agreement with her."
Reviews have been good for both albums, and sales have been respectable, though neither has yet to break even.
"With jazz vocal music, it's timeless, so it's not like a year later it's not salable. For a small record company with lesser known artists, the key to selling records is live performance."
He and Masters are currently considering options for their next release. They're looking for something that excites both of them musically, and that has a chance to be noticed in the overcrowded music market.
"There were 35,000 records released last year," he says. "So much good stuff gets lost in the shuffle. Jimmy being a musician and I being a businessman running this, the one thing is that people get paid what they deserve. It's a fair deal for everybody. I'm not trying to get wealthy, but I'm also not trying to get poor."
copyright © 2003 Port Folio Weekly. Used by Permission.
---