---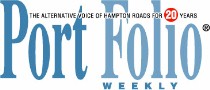 PortFolio Weekly
July 20, 2004
Two For Todi
by Jim Newsom
Stephanie Nakasian and Hod O'Brien are partners in music and in life. Carrying international reputations in jazz circles, the couple takes their music out into the world from their home in Charlottesville. Next Monday, July 26th, they'll bring it to Brutti's in Portsmouth as the featured jazz artists of this year's Todi MusicFest.
Nakasian has been compared to Ella Fitzgerald and Sarah Vaughan. Her rhythmic sensibilities and swinging style have opened many doors, including a stint with legendary vocalese master Jon Hendricks and numerous appearances on NPR's Riverwalk, Live from the Landing program with the Jim Cullum Jazz Band. Her most recent recording, Lullaby in Rhythm, is a tribute to '50s jazz chanteuse June Christy. In May she performed a live concert honoring Ms. Christy at the Kennedy Center.
Besides being a superb live performer, Stephanie Nakasian is an author and educator. Her book, It's Not on the Page, is an informative and practical guide for blending jazz stylings into choral settings. She also teaches voice at the University of Virginia and at William & Mary.
Hod O'Brien hit the New York jazz scene in the late '50s, and quickly established himself as a pianist of note. After a few years of dues paying, club dates and sideman recording gigs, he went back to Columbia University in 1963 to study mathematics and psychology, and disappeared from jazz for the next ten years while working in statistical research. He resumed his musical pursuits in the early '70s, and met Nakasian in 1980.
Since then, the twosome has performed literally all over the world, both together and apart. While she was playing the Tides Inn in Irvington last month, he was touring Japan. But most of the time, you'll find the two sharing the spotlight as they will next week at Brutti's.
Stephanie Nakasian and the Hod O'Brien Trio present two shows Monday night, at 8:00 and 10:00 pm. Tickets are $15.00 and are available from Ticketmaster or the Todi MusicFest box office at Willett Hall. For information, call 397-3541.
copyright © 2004 Port Folio Weekly. Used by Permission.
---