---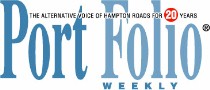 PortFolio Weekly
October 28, 2003
Best Rock/Pop Concert Space: The Norva
by Jim Newsom

I wish thereíd been a Norva thirty years ago, back when I was in tune with rock musicís cutting edge. I would love to have had the opportunity to see emerging acts, folks who couldnít yet fill Scope or the Coliseum but were too big for the Kingís Head Inn. Heck, just having a concert space where you could drink a beer while enjoying some out-of-town band with a record contract would have been a real treat.

My favorite performers were usually people who were not yet known, some of whom never would be. I didnít get to see most of them live unless they toured as opening acts for somebody else. I can only imagine how great it would have been to experience the glory years of rock up close and personal.

Todayís young Hampton Roads rock fans are lucky. They have a first-class place to hear all kinds of music, several days a week, all year long. Itís as though the Fillmore East relocated to Norfolk for the new millennium. I donít care much for the Insane Clown Posse or know anything about Puddle of Mudd or Girlz Garage, but I know that Norfolk is now on the tour itinerary of a lot of bands. And occasionally, one of the dinosaurs from my era will show up there. The only thing is, as I discovered last year while crammed together with 1,500 of my closest friends and fellow Jethro Tull fans, I donít like being crammed together with 1,500 of my closest friends, no seats and no room to move.

But thatís OK. Iím not the target audience, and the target audience knows a good thing when they see it. Thatís why the Norva was voted ďBest Rock/Pop Concert SpaceĒ in this yearís Best of Hampton Roads readersí poll. Itís a well deserved honor. Bill Reid and his associates have put Norfolk and Hampton Roads squarely in the middle of the rock and roll map.

copyright © 2003 Port Folio Weekly. Used by Permission.
---