---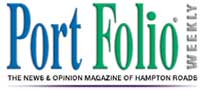 PortFolio Weekly
June 10, 2003
Summer Music: Jazz CD Reviews
by Jim Newsom
Ravi Coltrane
Mad 6 (Eighty Eights/Columbia)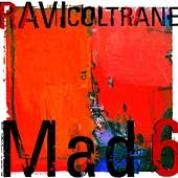 It's hard to imagine the musical weight you'd carry on your shoulders if you were the son of legendary saxophonist John Coltrane, your mother was highly regarded jazz pianist/harpist Alice Coltrane, and you were named for the giant of the sitar, Ravi Shankar. Yet, that's Ravi Coltrane's lineage. And with his latest release, Mad 6, he has staked a claim for his own place in the pantheon of jazz.

It is difficult not to compare Ravi with his dad, but you need to realize that he learned much of what he knows about John Coltrane the same way you and I did---through his music. 37-year old Ravi was only two when his father passed away. His own musical journey initially consisted of the music of the day, like Stevie Wonder and Earth, Wind & Fire. He played clarinet in the high school band, but didn't really begin to investigate jazz and the impact of his father until the mid-'80s, as he was entering young adulthood.

Since that time, he has developed into a superb saxophonist in his own right. This disc, recorded last spring, shows him to be looking forward while building on his musical heritage. There are two of his father's compositions, "26-2," a "Giant Steps" knockoff, and "Fifth House," neither of which are that well known, but both of which give him and his bandmates the chance to cook. He also delivers a magnificent reading of Charles Mingus' "Self Portrait in Three Colors," one of my favorite jazz pieces, but one which I've never heard by anyone other than Mingus himself.

"'Round Midnight" is the only oft-recorded number covered here, and Coltrane picks up his soprano sax for a unique uptempo jog through this Thelonious Monk chestnut. On Monk's ballad, "Ask Me Now," his tenor sax sails gently atop James Genus' delightfully delicious bass line to conjure up a quiet, relaxed evening. Ravi's originals stack up nicely, with the circular, Philip Glass-like structure of "Avignon" particularly entrancing.

________________________________________________

Mark Winkler
Sings Bobby Troup (Rhombus)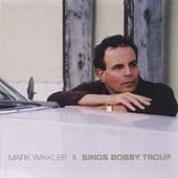 Bobby Troup summed up the cool, west coast hipster image of the 1950s west coast jazz scene in his original songs of the era. His best known composition is the standard "Route 66," but he also wrote a few other tunes most of us know, like "Girl Talk," "You're Looking at Me," and "Baby, Baby All the Time," plus a slew of lesser known songs with that same suave California groove.

Mark Winkler is a songwriter himself whose songs have been recorded by folks like Liza Minnelli, Kenny Rankin, Nancy Wilson and Randy Crawford. But on this release, he tackles Troup's catalog and presents it to a new generation of vocal jazz listeners. Rather than add some 21st century gimmicks, he sticks with the laidback nonchalance and straightahead instrumentation of a time gone by, and in so doing, captures the spirit and feel of that time.

Fortunately, he doesn't simply regurgitate the best known material in arrangements you've heard before. Instead, he glides down "Route 66" in a sleek, unadorned convertible made of acoustic bass & brushes, conveying pure, worry-free coolness. A mellow guitar and Hammond B-3 decorate the den from which Winkler shares his story of the girl who calls him "Baby, Baby All the Time." "Hungry Man" and "You're Looking At Me" epitomize the carefree swing for which Troup's concoctions are most remembered.

Clever wordplay abounds, and novelties like "Three Bears" and "Lemon Twist" make you yearn for simpler times (that may or may not have actually existed). "One October Morning" is an intelligent, grownup love song, and the never-before-recorded ballad "Learn to Love" offers the kind of gentle advice no longer found in contemporary music. Winkler dresses "Girl Talk" in early- '60s organ trio attire, then closes with the disc's one original, "Two Guys From the Coast."

________________________________________________

Yellowjackets
Time Squared (Heads Up)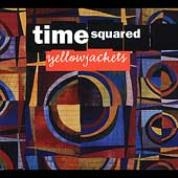 Yellowjackets have been the most consistent jazz band of the last twenty years. Straddling the lines between traditional mainstream acoustic jazz, fusion, pop and even achieving a modicum of smooth jazz airplay, founding members Russell Ferrante and Jimmy Haslip, along with longtime partner, saxophonist Bob Mintzer, have created an unmistakable sound that is at once accessible and quite complex. At this point, the group is its own genre.

The opening track here, "Go Go," is a catchy piece of funk that blends the quartet's trademark instrumental tonalities with a contemporary go-go groove to kick off the disc with a fresh yet familiar sound. "Monk's Habit" captures the spirit of Thelonious Monk's angular compositions without quoting directly from any of them. "Smithtown" and the title track both have a touch of the robotic in their arrangements, the latter embossed with Mintzer's bass clarinet figures and featuring Ferrante's '70s-era Chick/Herbie electric piano solo, while the former places Mintzer out front with his bass clarinet.

There are attractive ballads ("Gabriela Rose" and "Claire @ 18"), complicated melodic statements ("Sea Folk"), deceptive simplicity ("Village Gait") and odd meters ("V"). Newest member, drummer Marcus Baylor, offers the soothing "Healing Waters," to which his wife Jean contributes a wordless vocal. "My 1st Best Friend" moves from quiet stillness to edgy freedom and back again in less than five minutes.

Time Squared is cut from the same cloth as the group's 1995 masterpiece, Dreamland, containing a wealth of intelligent musical ideas, making its statement subtly rather than bombastically. It's like a tone poem in its textural richness, flowing gently from song to song, weaving an intoxicating spell.

________________________________________________

Abdullah Ibrahim
African Magic (Enja/Justin Time)
South Africa-born pianist Abdullah Ibrahim weaves a magic spell on this live trio outing, a 24-part suite recorded at the Jazz Across the Border Festival in Germany. Though his is not a household name, Ibrahim has produced a solid body of work since being discovered by Duke Ellington forty years ago. His music is not showy, and his piano playing relies on mood and texture rather than technical pyrotechnics to create a trance-like effect that is well documented on this disc.

Known by his birth name, Dollar Brand, until his conversion to Islam in 1968, the pianist was a member of the Jazz Epistles, a band that included trumpeter Hugh Masekela ("Grazing in the Grass") that recorded the first jazz album by South African musicians in 1960. He left his native land in 1962, but since 1990 has divided his time between there and New York.

Aftican Magic is a flowing, uninterrupted musical experience, full of shifting rhythms and beautiful mantra-like melodies that wordlessly travels through the history and geography of South Africa before depositing itself on these shores with tributes to Ellington and Coltrane. Much of the album reminds me of Keith Jarrett's totally improvised solo records of the 1970s, but the distinctive Ibrahim chord voicings mark it as uniquely his own.

Fragments of the pianist's melancholy "Blue Bolero" are sprinkled throughout the program, serving as transitions between themes and wrapping up the show with a final, complete version. Although this CD was recorded live, there is no audience noise to interrupt the mood set by Ibrahim and his sidemen, bassist Belden Bullock and drummer Sipho Kunene. African Magic is transcendent, a recording that lives up to its name.

________________________________________________

Stefon Harris
The Grand Unification Theory (Blue Note)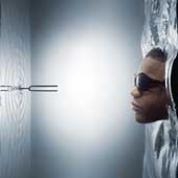 This is some of the most appealing music you're likely to hear this year. Vibraphonist Stefon Harris, one of the brightest young stars in today's jazz firmament, wrote this sweeping suite for twelve-piece ensemble as a commission for the music hall in Troy, New York. And while the title may seem a bit pompous (a theory in quantum physics asserting that the major forces of the universe are all parts of the same force), one needn't have any knowledge of, or concern with, scientific theory to appreciate the multifaceted music Harris has concocted.
The "Prologue" opens the disc with a joyous celebration, leading into "The Birth of Time," a musical representation of our beginnings, from an explosive "big bang" into a tentative eye-opening infancy, climaxing in a smoking improvisation-laden groove. With its funky horn-driven punch, "The Velvet Couch" could have been lifted off Herbie Hancock's Fat Albert Rotunda. "Escape to Quiet Desperation" features the horn section traveling across a repetitive marimba riff that comes unglued at the end, leading into the lilting "Song of the Whispering Banshee," another multi-part composition that takes the listener through several emotional states before depositing him on the clouds of the "March of Angels." The CD closes with a gentle song cycle that culminates with the lengthy title track, a mini-suite unto itself that effectively summarizes all that has come before it. Finally, the "Epilogue" serves as a quiet denouement.
Harris' arrangements are thick and rich, blending flute, trombones, trumpet, sax and clarinet in ways reminiscent of Oliver Nelson, Gil Evans and Herbie Hancock's late-'60s sextets. The Grand Unification Theory moves Stefon Harris up a few more notches in the hierarchy of modern jazz.
copyright © 2003 Port Folio Weekly. Used by Permission.
---