---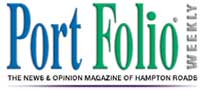 PortFolio Weekly
June 24, 2003
On the Verge of Big
by Jim Newsom
Five years ago, Ed Oast left the corporate world of banking and finance and went into the kitchen to bake cookies. This year, he expects to produce a million of them under the brand name Stewart's Kitchen.
"I grew up baking cookies with my mama," Oast recalls, "making Christmas cookies since I was eight or nine. When I went off to VMI, I made a ton of cookies. I started with a toll house recipe, modifying it."
After college, he spent fifteen years as a banker in Hampton Roads. His wife, Stewart, was an attorney.
"I started yearning for something that was tangible, tactile," he says. "I yearned to put a smile on someone's face with something more interesting than a quarter percent in interest rate."
Fortunately, he had been putting savings aside from early adulthood, and by age 40 had accumulated a nice nest egg. So, on May 31, 1998, Ed Oast became a fulltime cookie baker. He and his wife had actually started selling cookies the previous Christmas, literally working out of Stewart's kitchen in their Ghent home.
"We realized we couldn't do another Christmas like that," he laughs. "We were starting to resent our own kitchen."
That fall, they leased space in an office/warehouse facility on Redgate Avenue in West Ghent, bought equipment at auction, and began expanding their repertoire of baked goods. They now have six employees, and their products are sold by retailers throughout the southeast. They've shipped their cookies, biscotti, cheese wafers and pound cakes all over the country.
Earlier this month, Stewart's Kitchen's "idea cookie" was featured on the Today Show. That TV exposure and a spot on CNBC gave the business a huge jolt.
"Anything you want, we transfer it to an edible label and put it on the face of our oatmeal toffee cookie," Oast says of his idea cookies. "I can sell them all day long because they promote something other than me. It has been phenomenal."
And with appearances at upcoming gourmet food shows in New York and Atlanta, he foresees a doubling of business in the coming year. With that growth, the former banker may find himself sitting on the other side of the loan officer's desk.
"This is what I don't like," says Oast, who has thus far managed to build the business without having to borrow from a bank. "One day we will grow outside of our own capital. That is happening very soon."
And that's probably the toughest part about being small---becoming large. But if you bake a great cookie, it's a shame not to put smiles on the faces of as many people as you can.
copyright © 2003 Port Folio Weekly. Used by Permission.
---