---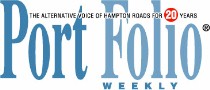 PortFolio Weekly
May 4, 2004
Traffic Jam
by Jim Newsom
On March 15th, Traffic was inducted into the Rock 'n Roll Hall of Fame. One of the most innovative and downright musical groups of the classic 1967-74 era, Traffic was a jam band before there was such a term. The band's guiding force, singer/songwriter/guitarist & keyboard player Steve Winwood, comes to the Norva Friday night for a concert filled with new takes on old favorites.
Winwood's career neither began nor ended with Traffic. In fact, he was singing hit singles as a teenager with the Spencer Davis Group in the mid '60s ("I'm a Man," "Gimme Some Lovin," "Keep on Runnin'"), and churned out a lengthy list of post-Traffic solo smashes through the '80s ("Roll With It," "Back in the High Life," "While You See a Chance").
Still, it's the Traffic discography---and the one-album sidestep in 1969 with Blind Faith, the "supergroup" he co-led with Eric Clapton---that marks his most important contribution to the history of rock. These days, Winwood is digging into the Traffic songbook for much of his setlist---"Pearly Queen," "40,000 Headmen," the "Glad/Freedom Rider" suite from John Barleycorn Must Die, "The Low Spark of High Heeled Boys" and the blues/rock guitar workout, "Dear Mr. Fantasy."
Sprinkled in amongst these and other Traffic tunes are solo hits like "Higher Love," Blind Faith's "Can't Find My Way Home" and some of the Spencer Davis material…plus a few tunes from his most recent CD, About Time. That disc, released late last year, is a stripped down affair, placing him in an organ trio setting filled with new material and a cover of Timmy Thomas' two-chord organ and percussion hit, "Why Can't We Live Together?"
Steve Winwood has one of the great voices of rock, a distinctive soulful wail that has aged like fine wine, sounding as good today as it did when we first heard it nearly 40 years ago. Sticking primarily to the Hammond B-3 organ with his current band, Winwood leaves most of the guitar work to Jose Neto, a former sideman for Airto Moreira and Flora Purim. Randall Bramblett handles the sax & flute work originally laid down by the late Chris Wood, and the quintet continues the dual percussion lineup of latter day Traffic.
Though he kept a fairly low public profile through the 1990s, he and Jim Capaldi did form a new version of Traffic for a while, and he could be seen with Clapton, B. B. King and others as part of the "Louisiana Gator Boys" in the Blues Brothers 2000 film. Now, with his new album and touring band, Hall of Fame induction, and "Lifetime Achievement" honor at the "Jammys" (jam band awards), Steve Winwood is back in the high life again, entering a new smiling phase of his career.
Tickets for Friday night's concert are $30.00, available at the Backstage Café and through Ticketmaster.
copyright © 2004 Port Folio Weekly. Used by Permission.
---