---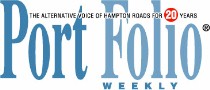 PortFolio Weekly
April 13, 2004
There's No Place Like Home
by Jim Newsom
Saxophonist Steve Wilson has traveled many a mile on the jazz highway since graduating from Phoebus High School in 1979. He's played with some of the greats, spent three years touring the world with jazz legend Chick Corea, been named in Downbeat polls on both alto and soprano sax, and released a batch of highly regarded recordings. When I spoke with him by phone last month, he had just returned to his New York City home from a two-week European tour fronting his own band in Switzerland, Spain and Portugal.
This week, he comes back to his childhood stompin' grounds for a five-day residency at Old Dominion University, where he'll conduct free clinics, work with the University's jazz ensemble, and wrap up the week in concert with some old friends.
Phoebus, that tiny hamlet just north of the Hampton Roads Bridge-Tunnel, is not a place normally thought of as a breeding ground for future jazz stars. Yet, Wilson credits his upbringing there for launching him on his way.
"I was very fortunate to get a good foundation when I was there," he says. "Al Morris was my band director. He really had a lot going on with the jazz ensemble."
And his dad sowed the seeds for his love of music at an early age:
"My father had a small record collection that had a lot of variety in it. I was hearing Ahmad Jamal, Miles Davis, but I was also hearing James Brown, Stax, Miriam Makeeba. I was going to church on Sundays, so I heard gospel music. My father actually sang in a male spiritual choir called the Crusaders for about 10 or 15 years, and I'd go with them to concerts.
"And of course, whatever was on the radio. My dad used to listen to the easy listening station, WFOG. So I heard a whole bunch of different stuff."
Growing up where and when he did, young Steve Wilson had a chance to see some of the top jazz saxists perform.
"Eddie Harris, Rahsaan Roland Kirk and Cannonball Adderley were the guys that really inspired me to play," he recalls, "because I had the chance to see them live at the Hampton Jazz Festival. So I grew up seeing a lot of great musicians when they came to play. But I was also listening to Ronnie Laws, Grover Washington, Michael Brecker, David Sanborn. Then I got turned on to Charlie Parker and John Coltrane."
Wilson spent a year on the road after high school with a "pop-funk-disco band that was based in Norfolk" that included some of the guys who've become mainstays of the local jazz scene---Woody Beckner, Dave Hufstedler and Roy Muth among them. Then he went to Virginia Commonwealth University in Richmond to further his musical studies.
"While I was at school [at VCU], we had a lot of New York musicians who came through doing residencies," he remembers. "People like Jaki Byard, the Heath Brothers, Frank Foster, Sonny Rollins, Jon Hendricks, the Marsalises, Betty Carter, Elvin Jones. When you get a chance not just to hear them, but to really hang with them and talk with them and get inspired by them, at some point you decide that if you really want to raise your artistry to the highest potential, the only way is to be around the musicians that you aspire to be like. At that time, it was about coming to New York, because this was really the center of things."
He arrived in the Big Apple in 1987 as a member of a straightahead jazz group called Out of the Blue that recorded for Blue Note records.
"When I got here, the band didn't have much work. So I had to get out and start meeting a lot of folks, going to sit in at places. Then I started working with Lionel Hampton and with the American Jazz Orchestra. One thing just kept leading to another.
"I feel like I was in the right place at the right time. Just being around people who can inspire you in the right direction, it helps. We all see a lot of talented people; sometimes they don't focus it in the right way. But if you're around people who will really pull your coat in the right direction as to how to use it, that's really the key. You learn from folks that've been around for a long time, 'cause it's still really an oral tradition."
Wilson's highest profile gig was his stint with Chick Corea's Origin sextet.
"I actually met him through Avishai Cohen, who was the bassist with Origin. I was working with Avishai's band about five years ago and he got a recording deal to record for Chick's record label, Stretch. And Chick was at the session, producing. He was very, very nice and laid back, great to be around, very encouraging. He's really into musicians just creating new stuff. So, a few months later after the date, we all heard individually from Chick. He was putting a new group together, and he had an engagement up in Schenectady, New York, as he calls it, 'an experiment.' That's how Origin got started. From that point on, it was about a three-year run with the band.
"It exposed us to Chick's fans because he has a loyal following all over the world. We got to tour South America, Japan, Europe. To tour under Chick's leadership exposed all of us to a new audience."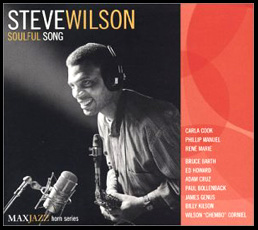 Last year, Wilson released the excellent Soulful Song for the MaxJazz label, a disc dedicated to the '70s soul music Wilson grew up with. The disc includes jazz takes on songs by Earth Wind & Fire, Stevie Wonder, the Staple Singers, Gil Scott-Heron, plus Corea's "You're Everything" and a sprinkling of originals in the same vein.
"The Poinciana recording, Ahmad Jamal, was the first jazz recording that I remember hearing when I was very young, maybe four or five. But what really turned me on were two records---The Swiss Movement record and the Quincy Jones Walking in Space recording. That was a landmark record where he took a variety of material with all of those great musicians, and he was able to weave it into one sound. It was a pretty amazing thing to do. That recording was really the template for what we were trying to do with Soulful Song."
After seventeen years in the capital of the jazz world, Steve Wilson has a full calendar, playing both as leader and sideman, recording, and teaching at Columbia University and the State University of New York-Purchase College. ("The plate's pretty full here.") This week he takes a few days out from his hectic schedule to come see family, friends and offer insights and inspiration to the next generation of jazz musicians at ODU.
copyright © 2004 Port Folio Weekly. Used by Permission.
---