---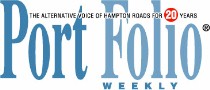 PortFolio Weekly
October 28, 2003
Best Historic Building: St. Paul's Episcopal Church
by Jim Newsom

There is no building still standing in Norfolk more historic than St. Paulís Episcopal Church. In fact, itís the cityís oldest building because it was the only structure left standing when the British burned the whole town to the ground on New Yearís Day, 1776. So itís appropriate that our readers chose St. Paulís as the ďBest Historic Building or SiteĒ in this yearís Best of Hampton Roads poll.

The church and its grounds are an oasis of green in the midst of the urban landscape. Nestled between the bustling Norfolk city municipal complex and the MacArthur Center shopping mall, the St. Paulís churchyard offers a pleasant place for a lunchtime picnic, a shady spot to read a book or just to be left alone in quiet contemplation. (Well, quiet is a relative term since traffic noisily whizzes by just outside the churchyard wall.)

Built in 1739, St. Paulís is one of Hampton Roadsí best known tourist attractions because of the cannonball lodged in its southwest wall. The cannonball, fired by Lord Dunmore during the British siege that lay Norfolk to waste, is actually held in place by concrete these days, but it is cemented into the spot where it originally struck. The church also has an original Tiffany stained glass window, colonial pews with locking doors, a graveyard with tombstones dating back to the colonial era, and a museum featuring the chair in which John Hancock signed the Declaration of Independence. The churchyard wall marked the original city limits of Norfolk.

But St. Paulís is more than a museum. Itís an active Episcopal parish, drawing members from all over Hampton Roads. In recent years it has hosted outdoor music festivals, indoor concerts and annual speaker series, as well as reaching out to the mixture of communities that surround it. The parking lot is full on Sunday mornings. St. Paulís Episcopal Church continues to serve as a literal and spiritual link between Norfolkís past, present and future.

copyright © 2003 Port Folio Weekly. Used by Permission.
---